Sari 3.0
Sari 3.0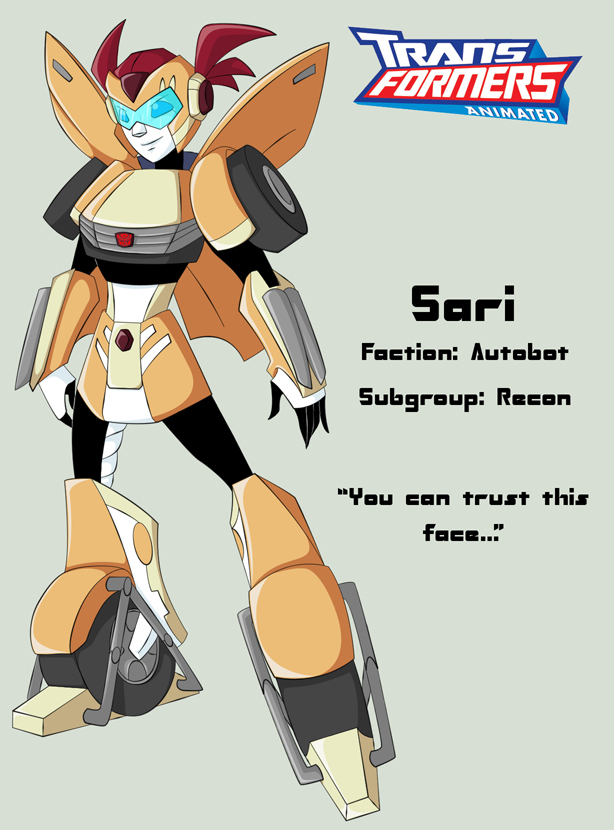 Description
For the ORIGINAL of this awesome piece, go to this link: [url="http://oniwanbashu.deviantart.com/art/Cybertronian-Sari-128862226"]click here[/url]!

Name: Sari Sumdac
Faction: Autobot
Subgroup: Recon
Alt: Honda Insight
Motto: "You can trust this face..."

Powers/Abilities: Sari is still equipped with an energy hammer that folds into the lower part of her right arm. She also has two energy blades that form out of the exhaust pipes on her arms. The mechanisms on her fold up to allow her to skate on her tires, and snap down when she needs to walk or brake.

Weaknesses: Having only recently gained her Autobot body, Sari is still relatively uncomfortable in it. She hasn't gotten the hang of stopping when she's skating just yet, and her energy hammer sometimes gets stuck while she's trying to deploy it. Her techno-organic body is stored inside the spark chamber in her chest, which is a vulnerable spot for her. No one knows what will happen if her "real" body actually dies.

This is basically how Sari appears post-Last Rites. The full drawing was done by the epically awesome :devoniwanbashu:, who whipped this out (as well as all the neat things she can do) in short order. I couldn't resist coloring it.

Much thanks, bebe! <3

Original drawing by: [url="http://oniwanbashu.deviantart.com"]~Oniwanbashu[/url]
Coloring by: Yours Truly
Colored with permission! Do not steal!

Sari belongs to HasTak.

Random stupid fact: I chose the Honda Insight as her alt because it's a HYBRID. Hur hur.