Songbird
Songbird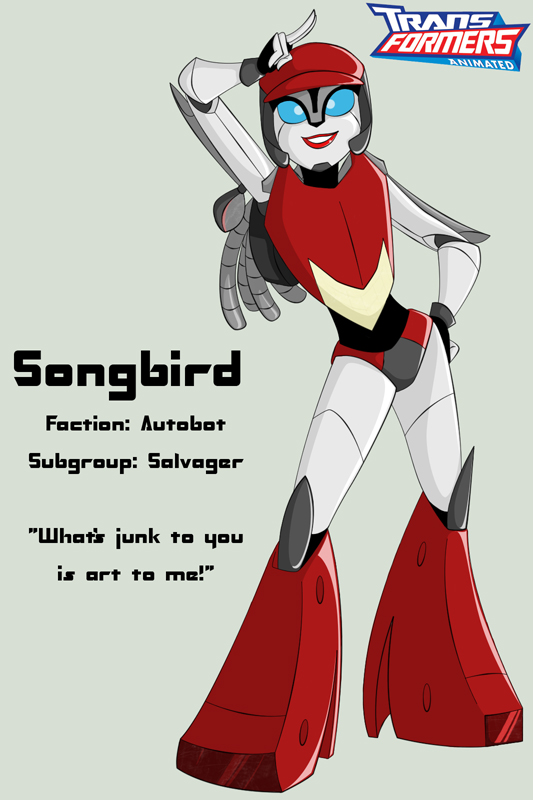 Description
Name: Songbird
Rank: regular army
Division: salvager
Faction: Autobot
Cybertron Alt: red all-terrain scooter
Earth Alt: red 2007 Honda Helix

Personality: A cheerful, pleasant, musical femme, Songbird is one of a large subgroup of Autobots officially called salvagers (other groups in the Autobot military call this subgroup "Junkers" or Junkions," which the salvagers have accepted readily as opposed to taking offense). She is extremely personable and easy-going, enjoying her job just as much as anyone might a regular, easy position. She likes the feeling she gets from helping others and rarely takes offense at anything. Strangely enough, she has an odd habit of following around Sentinel Prime. She's more a bane to his existence than anything... or so he says. Songbird is just convinced he needs someone to talk to.

History: On Cybertron, it is not uncommon for you to get placed in a particular position right after you're designed... and so it went for little Songbird. She is relatively young, her name derived from her love for music and her creator's fondness for crystalbirds, which often grew and sang around his home. From a very early age, Songbird was destined for exactly what she went for. She was built a salvager, and a salvager she always would be.

With time, Songbird went into the Autobot academy, and like most salvagers, she was trained in field repair and scouting, as well as some infiltration. She was top of her class and a shining example of what someone with her background could do.

Of course, in the division she was raised in, there was no chance for her to ever make Elite Guard status. Not that Songbird minded. She was more than content to simply go about her life, happy as could be. She was placed on an off-world exploration mission, with the job tacked to many in her division: find parts and salvage that could be used in repair bays back on Cybertron. It was bad luck that saw their operation, located near a space bridge, attacked by a rogue Decepticon warship.

Fate had other ideas for Songbird. She, as well as four other members of her fifteen member team, was rescued on the brink of death by the Elite Guard ship carrying Supreme Commander Ultra Magnus and his crew. Those rescued with her were Powerglide, Hoist, Grapple, and Detritus.

She remembered very clearly the mech that had saved her, of course. He'd fended off her attackers, pulled hte debris off her small frame, picked her up, and carried her back to the ship. They were all taken back to the nearest, easiest to access world for repairs: Earth. After Ratchet had fixed her up, during her time recuperating, she began taking her time in getting to know her savior. That is, Sentinel Prime.

Weapons/Abilities: Songbird's primary weapon is located on her upper arms. That is, a pair of pipes formed from her exhaust pipes in her alt. She can release a number of gases from these, some noxious and some just meant to obscure the vision of a pursuer so she can get away safely. Her size makes her relatively quick and nimble.

Weaknesses: Very small (barely smaller than Bumblebee) and relatively weak. Should she get caught off guard, it will not mean good things for her. As a salvager, she is usually overlooked and sometimes even treated as inferior by members of the Elite Guard.

Motto: "What's junk to you is art to me!"

~~~~~~~~~~~~~~~~~~

Finally a full color version of Songbird!