OC - Steeplechase
OC - Steeplechase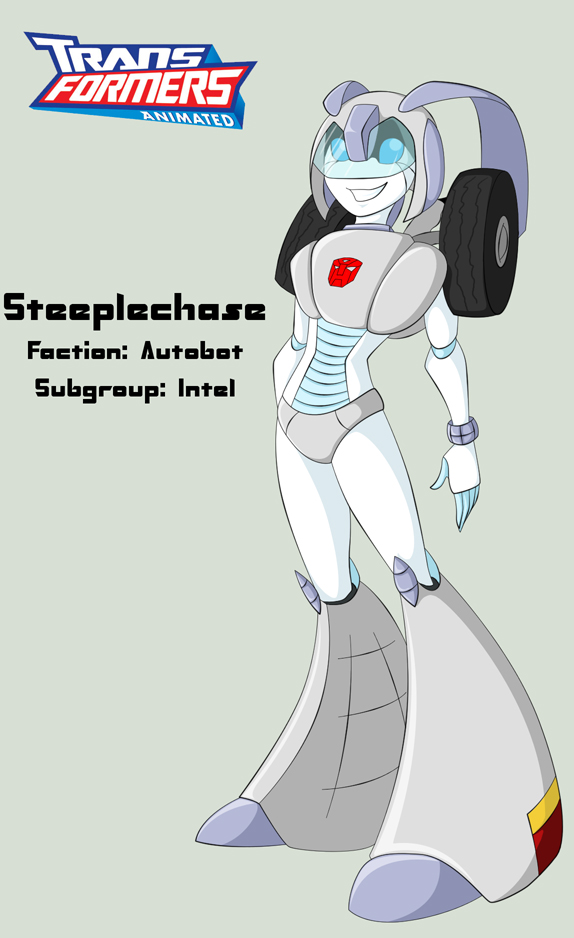 Description
Name: Steeplechase
Rank: Elite Guard (very recently promoted, so her insignia does not have its "wings")
Division: intel
Faction: Autobot
Cybertron Alt: monotracer cycle
Earth Alt: silver Vespa

Personality: To know Steeplechase is to know a femme who has never let anything really get her down in life. Consistently optimistic, perky, and cheerful, she manages to convey an endless ray of support and friendship to those she considers closest to her despite her rather unusual speech. There's little she's self-conscious about and she always tries to put as much as she can into her job. Anyone that knows her recognizes her as a pleasant, personable sort who is a surprisingly good listener.

History: Abandoned shortly after her creation sometime near the end of the war, Steeplechase had to spend her first vorn or so fending for herself. This resulted in her vocalizer being badly damaged and preventing her from speaking at all. During this time she was found by a mech named Jazz while he was visiting his "family" at the Iacon Mechopera Auditorium. Having been found in a similar fashion, and similarly "orphaned," he took her back to the auditorium and introduced her to his adopted creators, Mezzo and Forte, who took in the little femme without question.

Steeplechase, though she could not sing like the others, could dance well enough and held her own among the professionals and becoming part of the unusual family in somewhat short order. She came to consider Jazz like an older brother, one she idolized. When, after completing his cyberninja training, he joined the Autobot Academy, she did the same. While in boot camp, she was spotted by Blaster, second-in-command of the intel division under Longarm Prime. A thought came to mind and he had her taken to the medics and given a new, specialized vocalizer... one that gave her the ability to "speak" in an Autobot code language decipherable only by Autobots and civilians, comprised of chirps, whistles, and electronic sounds.

After her graduation, she stayed with intel and was recently promoted to a private in the Elite Guard. She still has not had time to have her wings added to her insignia.

Weapons/Abilities: Steeplechase is specialized specifically for intel and speaks in an electronic-sounding language only translatable by Autobots and civilians. It is especially useful when transmitting over encrypted channels. Her wristguards work like switchboards, allowing her to transmit over a number of open channels at once. A hatch on her back can release small drones that give off a false Autobot energy signature to lead enemies away before exploding.

Weaknesses: After seh was modified for the intel job, she didn't receive a whole lot of combat training. Aside from her drones, she's relatively defenseless if caught in battle. Her inability to "speak" makes it difficult for her to communicate with alien lifeforms.

~~~~~~~~~~

It's Steeplechase! I colored her too, nyah. Now I just need to do a picture of Spinout and I'll complete the set!

'Chase is mine. TFA is not.