Je suis tirer Sasuke!!!!XD
Je suis tirer Sasuke!!!!XD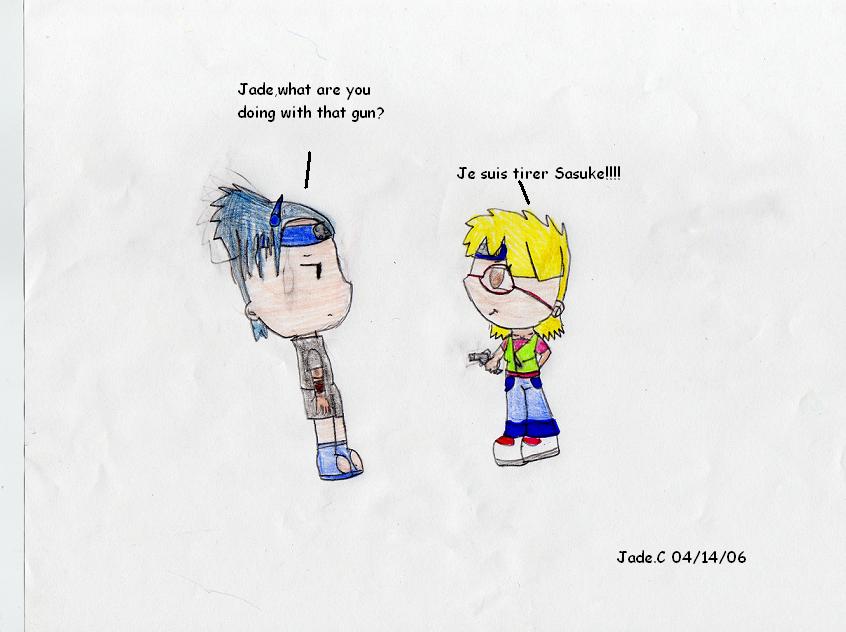 Description
OKAY!!!!I admitt it!!!I am a Sasuke hater!!!

This is the translation for what the girl(who is me)is saying,

Je suis tirer Sasuke:I'm gonna shoot Sasuke.(But I won't,it's just a stupid joke.So don't flame me!!!!)

The 'Tirer' thing is a joke in french class.We were going to say what we liked to do in French and I read in a French/English dictionary that 'to draw' was tirer in translation.

So,when it was my turn I said "J'aime tirer(which means I like to shoot*though I meant to say 'to Draw'*)"and my teacher pointed out my mistake and helped me out.After school my french teacher saw me and said "Don't shoot" in french.

Please comment!And Sasuke fangirls will be warned that Gaara's my bodyguard!!!
General Info
Comments
7
Media
Unspecified
Time Taken
Reference