Angel Wings
Angel Wings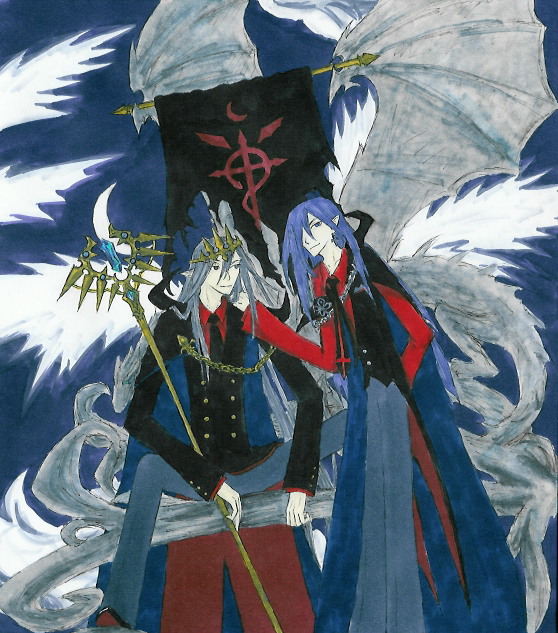 Description
Inspiration for this came from the
october calendar of Tsubasa
,which was also a splash, though I can't remember the chapitre.
Other than that ... the characteres are Phantom (the purple hair) and Astarael (pretty elf). As usual, my scanner completely messed up the colours, and I was too lazy to try to fix it. And it doesn't help that EVERY SINGLE GREY PEN I OWN is out of ink. Which is why the grey parts suck. I use a lot of grey in my pictures. That's just the way I visualise things; I don't know how to change it.
I first started drawing this only last night, which is rare. I actually didn't take forever to get something up? Unbelievable, I know ... It took me half a month to finish everything I drew in 2006, and that was maybe six pictures ... though that may have something to do with the fact that I'm a horrible, horrible procrastinator.
Right, about the picture .... everything about the costumes was somehow inspired by Tsubasa: the suits, the crown and Fay's staff of magical butterfly joy, the vampire cloaks, the armband ... The logo on the flag is my version of the flamel-symbol, which I've been using for quite some time. The sky was purple ... once ... The dragon thing is there because I needed something for him to be sitting on, and I got carried away. That's all.
And as to their relationship ... you should be able to figure it out. I'm not going to tell you, because I don't feel like typing that much, so ... yeah. The end.
General Info
Comments
2
Media
Ink or markers
Time Taken
guh ... couple of hours?
Reference
various Tsubasa splashes and covers and crap