When the shark bites...
When the shark bites...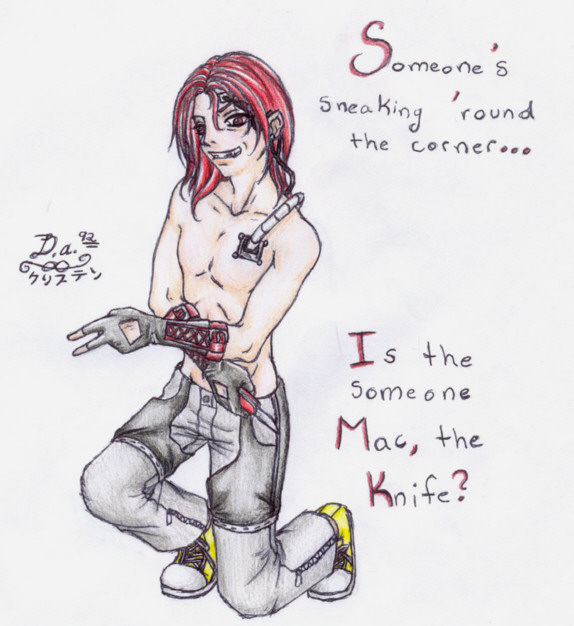 Description
Oh the shark has pretty teeth dear
And he shows them pearly white
Just a jack-knife has Mac-heath dear
And he keeps it out of sight

When the shark bites with his teeth dear
Scarlet billows start to spread
Fancy gloves though wears Mac-heath dear
So there's not a trace of red
On the sidewalk Sunday morning
Lies a body oozing life
Someone's sneaking 'round the corner
Is the someone Mack the Knife
From a tugboat by the river
A cement bag's dropping down
The cement's just for the weight dear
Bet you Mackies's back in town
Louis Miller disappeared dear
After drawing out his cash
And Mac-heath spends like a sailo
Did our boy do something rash
Sukey Tawdry, Jenny Diver
Polly Peachum Lucy Brown
O the line forms on the right dear
Now that Mackie's back in town

-Mack the Knife. I'm not sure who the original artist was, but Bobby Darin and Frank Sanatra and a ton of other people have sung it... Anyway, this song was the inspiration for this pic.
-I call my version of Mack the Knife, Mac. Because the full name is Mac-heath, and it doesn't seem to make sense to shorten it to Mack, with a K.
-As it says in the song, Mac uses a "jack-knife". I looked up the term, and it appears that a jack-knife is basically a pocket knife. He also wears "fancy gloves".
-Yellow converse!!
-There's an elaborate back story as to the machinery hooked up to Mac's chest and head, but it's too much to write here, and I've already put way too much...
General Info
Comments
4
Media
Other drawing
Time Taken
I can't even guess...
Reference
the song, Mack the Knife