Kari Bogia
Kari Bogia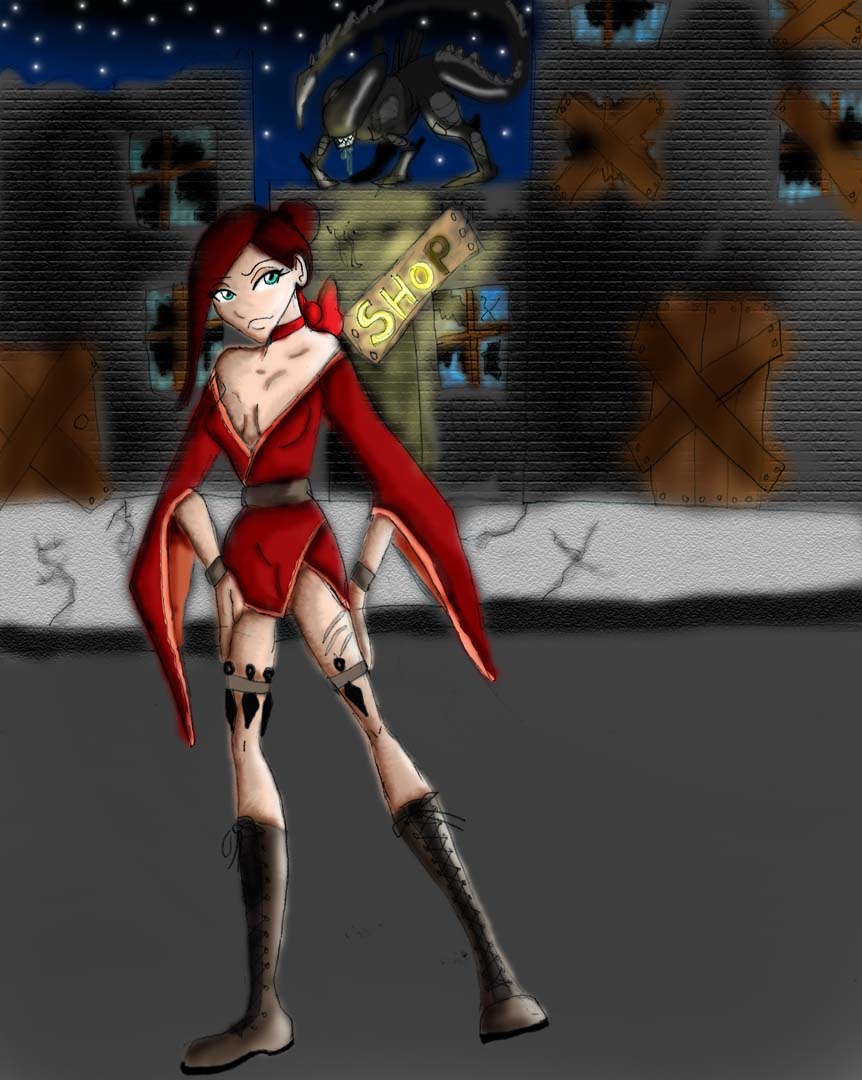 Description
no realstion to the infamous Borgia family. Kari was raised by a male Predator, and was hardened into a fierce fighter and hunter. Life with the yautja is quite hard, she has numerous emtional issues, including the witness of her mothers brutal death b/c of the xeno's. Now shes hellbent on vengence....<br />
<br />
<br />
Profile<br />
<br />
Name: Kari Borgia<br />
Age: 16<br />
Sex: female<br />
Species: human<br />
Voice: Kelly Sheridan (voice of Sango, Inuyasha)<br />
Personality: tough, temperamental, cocky, stubborn, at times can be explosive. But when she's in a good mood, she's pretty relaxed and understanding. She has a natural love for the Earth and when she's finds a flower or patch of green grass, her mood is very loving and affectionate. But when she firsthand witnessed Earth's downfall and her mothers death, she became highly vindictive and filled with hate. <br />
Interest: weapons, skeletons and skulls, hunting, nighttime, playing games (pissing him off most of the time) and sparring with her favorite yautja Za'zuke, napping in a path of rare green grass<br />
Description: Kari has an undying hate for the xenon's but maintains honor with every kill. Growing up with a yautja has done a number on her emotional stress, with a loving mother replaced by an aggressive hunter, Kari has become hard to the core. Her passion and tenderness have practically disappeared into cold hate and anger. But when she is not fighting she is usually a completely different person. When in a good mood she likes to relax, laugh and joke around with her partner Za'zuke, even though he's acts like a complete @$$. Although he doesn't know it yet, she knows him well enough to see through his act and see that he's a real good mentor and friend. <br />
Background: Like every other human child, she grew up on earth, but at the age of four her father walked out on the family to join the military. Not too much longer after that, the outbreak of the xenomorphs started to take over, killing everything in sight. Kari and her mother were the last remaining survivors of their large city, however her mother died protecting her future mentor, Za'zuke. Za'zuke took responsibility of her but raised her harshly. She never thought of him as any kind of family figure for the way he treated her. But now that she is older, she sees the wisdom through his tough training. <br />
Quote: "I may look like a helpless lost girl, but I'm not lost at all! I'm here to Kick…Your…@$$!