Argent & Xantha
Argent & Xantha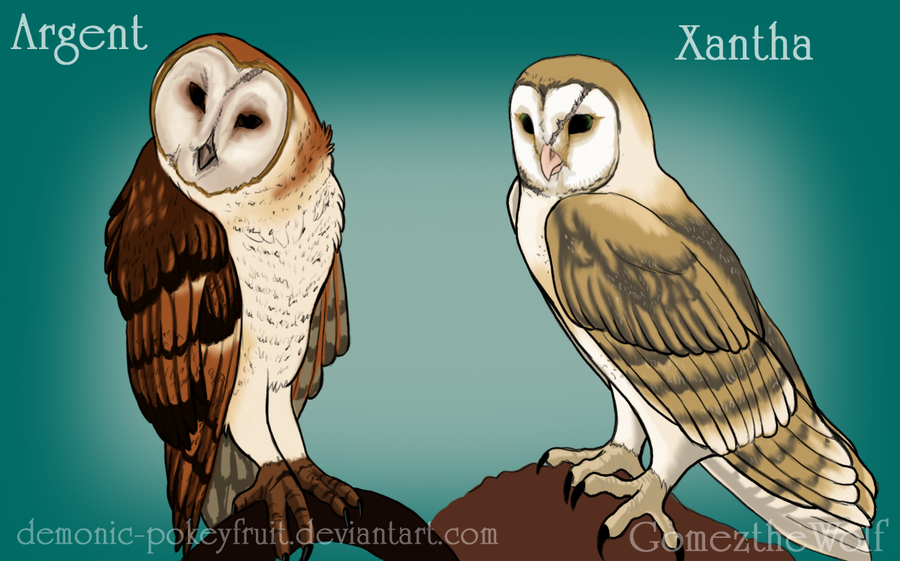 Description
These are two ocs for the book series of the Guardians of Ga'Hoole.
Also, in me and my friend's rp, we had to change the story around a little. Mostly cause I read books 1-5 at the time, and my friend had only seen the movie.
Argent is an older owl. He used to be a soldier for the Pure Ones, however, when his friend Orgin, who was also known as the Dark Knight, was murdered in the line of battle, he left the Pure Ones to travel around the 6 owl kingdoms.
His feathers consist of a rich brown and reddish color, with many speckles on his chest and wings. Some might critque on his face as unsymmetrical, but it's supposed to be like that. He's gotten quite a few injuries from battle, and on adventures, so he's a bit disfigured on the face. lol
Xantha is one of Kludd and Nyra's children. (Nyra had been killed shortly before Xantha's hatching) When she becomes older, she finds that her brother is to become King of Ga'Hoole, and finding this out, this enrages her. So she attempts to kill her brother, and Borim, her personal flight and battle trainer. However, due to a confrontation from a Transformer Owl, she soon falls yeep and plummets to the ground, leaving her a large scar much like her mother's. Afterwards, she unknowingly becomes more and more like Nyra as the days past, and even becomes haunted by her mother's scroom.
She's got a very light color scheme on her. Barely any black speckles on the chest, but many white speckles on her wings and back.
Remember guys, we had to change the story a bit, so no uber fanboys/fangirls start throwing rocks and edible debris at me. D<
General Info
Comments
0
Media
Digital drawing or painting
Time Taken
4 hours
Reference
Yes