Horny fox's and popsicles (Comic)
Horny fox's and popsicles (Comic)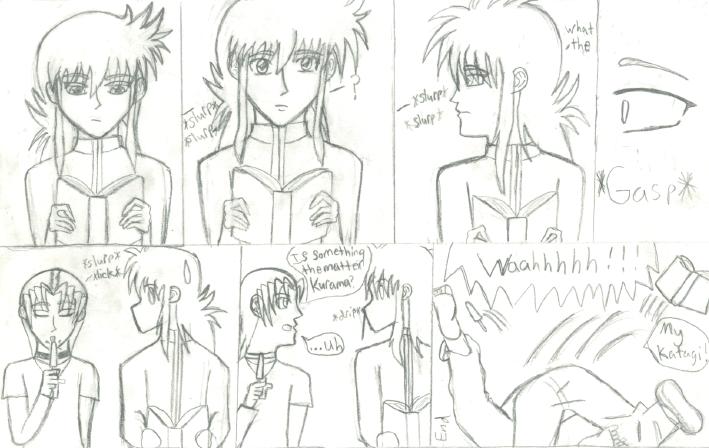 Description
Hehe aw I love the random ideas that pop into my head. Here's what they're saying in case you can't see it (not that there's much dialouge)

Panel 2: *Slurp slurp*
(Kurama) ?
Panel 3: *Slurp slurp*
(Kurama) What the?
Panel 4: (Kurama) *Gasp*
Panel 5: (Katagi) *Slurp lick*
(Kurama) *Sweatdrop*
Panel 6: (Katagi) Is something the matter Kurama?
(Kurama) *drip* (That's supposed to be a nosebleed)
(Katagi) ...Uh
Panel 7: (Katagi) WAHHHH!
(Kurama) My Katagi!

Haha man I love this and the moral for today children is to never eat a popsicle in front of Kurama
(Katagi) I'll say, I never know when he's going to pounce on me and what for
(Darkness) Hehe sorry if this isn't really good. This is the first comic I've made for about 2 or 3 months so it might not be my best. Panel 5 is one of my favs because Katagi came out really well and Kurama looks so cute with that face. It was my first time using it. And I also love the last one, the positions came out really good. To tell the truth I got the reference for it in the last manga of "Fake" *sighs dreamily* I love that manga and it came in really handy. Actually that one panel was the inspiration of this whole comic. Well, I hope you like it and please comment!
General Info
Comments
5
Media
Graphite pencil
Time Taken
Reference