Wade: He'll F-ing Kill You
Wade: He'll F-ing Kill You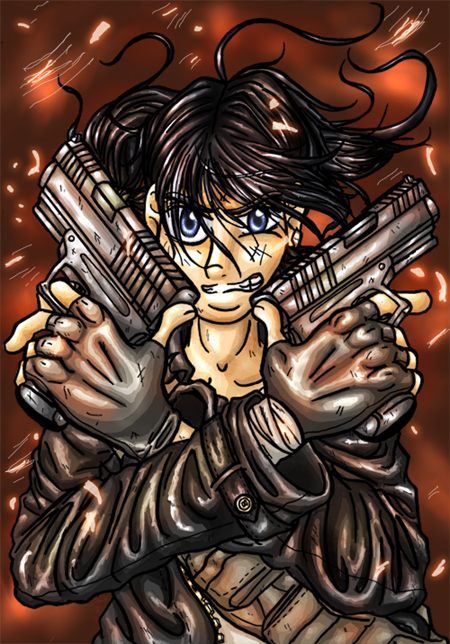 Description
PLEASE FULL VIEW!

So right....the other day I felt the sudden urge to draw Wade (my friend Pancake's assassin character and Lenore's best friend/partner in crime for those of you who don't know him) being incredibly badass.

And so I did. And it was super awesome. And thus I decided to CG it...and because I thought the picture was awesome, I decided to push the envelope with my coloring, see how good I could get it....this is the result.

So yeah, I'm REALLY proud of this. The style of coloring takes FOREVER (Two days, not counting the first where I got all the flats down and then photoshop crashed and I lost it all) but it's really worth it in the end. The porportions are a bit wonky, but overall I like it...and for my second try at drawing guns, I think they came out pretty nice.

PLEASE LEAVE A COMMENT! Please guys, this took forever, I'm dying for some feedback! If you have critiques, let 'em fly, if you just think it looks good, tell me so, just tell me what you think! Also, if you fave this and don't comment, Wade will come to your house and DISEMBOWEL YOU WITH A WOODEN COOKING SPOON.
General Info
Comments
3
Media
Digital drawing or painting
Time Taken
Reference