Kagome in a 1959 Chevrolet
Kagome in a 1959 Chevrolet
Kagome in a 1959 Chevrolet
by
Dumas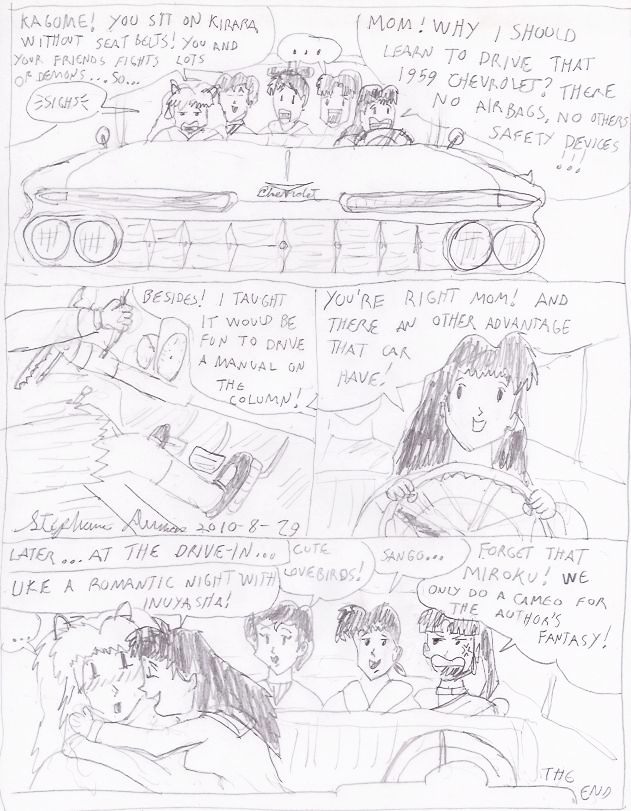 Description
Sorry for the inconvience if I made this short fan-manga in an hurry. And drawing the front end of the 1959 Chevrolet was more complicated then I taught.
I got the inspiration from this Youtube clip
http://www.youtube.com/watch?v=BM6FQsP2XRY
showing a 1959 Chevrolet with a 3-speed manual transmission on the column known as "three on the tree" from a guy nicknamed Jim59 at
http://www.jims59.com
and an article from Jalopnik about a
http://jalopnik.com/5623262/honda-accord-only-flaw-in-otherwise-perfect-wisconsin-drive+in-theate...
drive-in theater experience.
Mrs. Higurashi decided to let her dauther Kagome having some driving lessons and Kagome is scared because there no airbags and other safety devices while her mother replied then she sits on Kirara without seat belts and she fights demons with her friends. Inuyasha, Sango and Miroku are speechless...
Kagome learns to drive a "three on the tree" and find one advantage: a romantic night at the drive-in! One big advantage of the front bench seat Kagome wants to kiss Inuyasha while Mrs. Higurashi said they're cute lovebirds and Miroku wants to do the same while Sango replied they're only do a cameo appearance for the author's fantasy.
For references pics of the 1959 Chevrolet, I saw a couple of vintage ads posted at
http://www.jims59.com/other59s/59chevyads/index.html
as well as Oldcarbrochures
http://www.oldcarbrochures.com
and IMCDB (Internet movie cars database)
http://www.imcdb.org
General Info
Comments
1
Media
Other drawing
Time Taken
Reference