1962 Dodge Custom 880
1962 Dodge Custom 880
1962 Dodge Custom 880
by
Dumas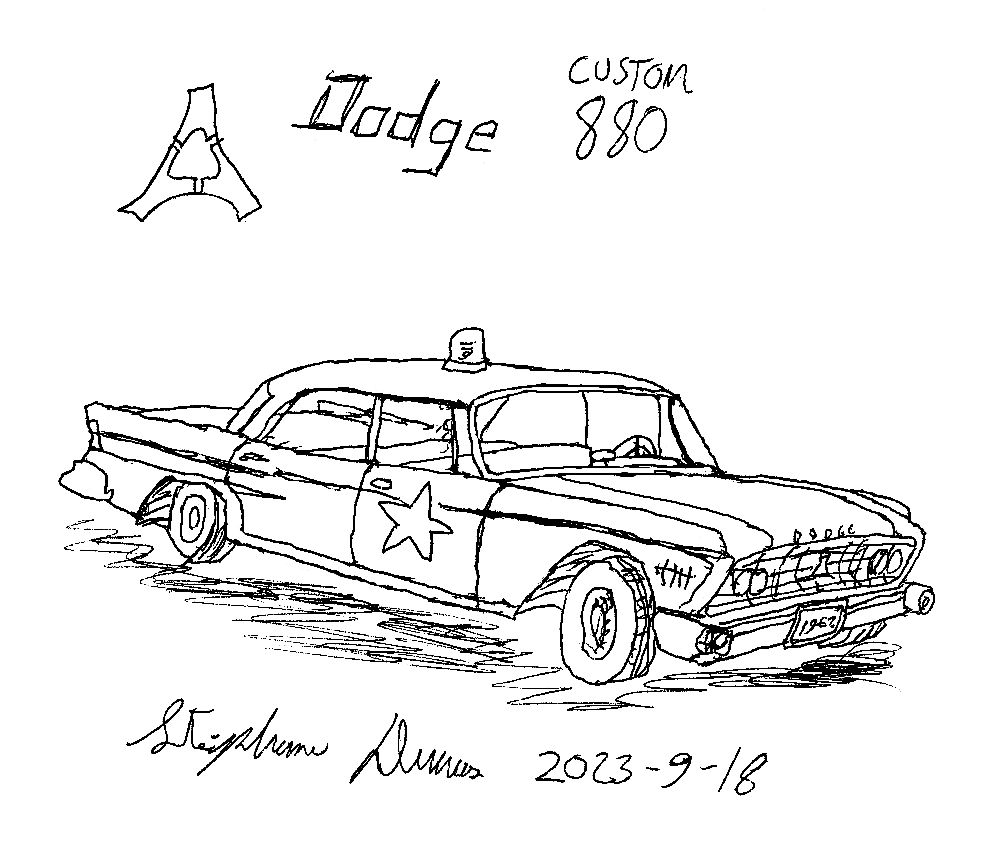 Description
Vincentberkan, an user on Deviantart, asked me this request of a 1962 Dodge Custom 880 as a police car althought introduced later in the model year it could have been a "1962½ Dodge Custom 880".  
A bit of history: the Dodge Custom 880 (there was a 880 who appeared later) was a later offering in the Dodge line-up after the cold reception of the 1962 "full-size" Dodge and Plymouth who was shrunken and nicknamed "plucked chicken" by auto designer Virgil Exner who disliked the final products and get the blame for that. Dodge dealers asked for a real "full-size" Dodge and got the Custom 880 who was a 1962 Chrysler body with a 1961 Dodge front end with the addition of the "fratzog" who was Dodge logo from 1962 to 1976.  The late auto historian Jeffrey Godshall who was a long-time contributor to car magazines like Special Interest Autos and Collectible Automobile wondered why they used Custom 880 instead of "Custom Royal" who was a nameplate used by Dodge from 1955 to 1959?  Still after redesign in 1963 and 1964, sales of the "plucked chicken" recovered a bit and when the real "full-size" Polara/Monaco/Custom 880 arrived in 1965 while the previous "full-size" morphed into a mid-size/intermediate where Dodge revived the Coronet monicker to go against the Chevrolet Chevelle, Ford Fairlane, Mercury Comet and Pontiac Tempest/LeMans. 
There's some good stories about the Custom 880 and the "plucked chicken" Polara on Wikipedia, Curbside Classic and Ate Up With Motor.
https://en.wikipedia.org/wiki/Dodge_Custom_880
https://www.curbsideclassic.com/blog/dodge-custom-880-a-re-badging-success/
https://ateupwithmotor.com/model-histories/chrysler-downsizing-disaster-1962/
General Info
Comments
0
Media
Other drawing
Time Taken
Reference