Rawee - Ga-Matoran Chronicler
Rawee - Ga-Matoran Chronicler
Rawee - Ga-Matoran Chronicler
by
Edge14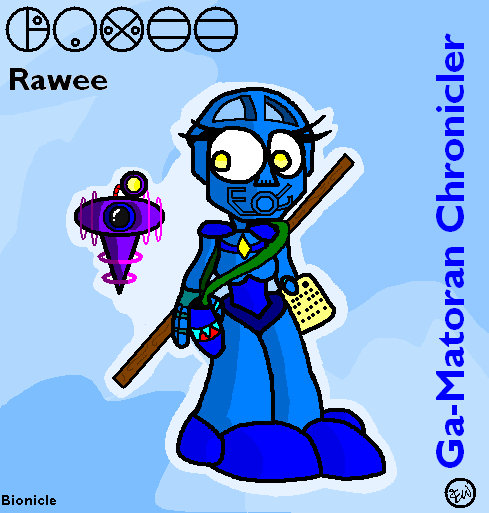 Description
Name: Rawee
Gender: Female
Element: Water
Tools: Hover Camera, Wooden Pole, storage Bag
Mask: Kanohi Komau
Friends: Dalu, Balta, Novi, Toa Hahli and Toa Jaller.
Island: Voya-Nui

Story: Rawee is a Ga-Matoran Chronicler that explores Voya-Nui with her best friend Dalu. Rawee writes down every more the Toa make and sometimes photographs there adventure to show Matoran wat has been happening. Rawee is Brave and will go into any situation, wether the Piraka are about to attack, just to get a good photograph.
General Info
Comments
5
Media
MS Paint
Time Taken
Reference