Jacobz - Onu-Matoran Kohli Player
Jacobz - Onu-Matoran Kohli Player
Jacobz - Onu-Matoran Kohli Player
by
Edge14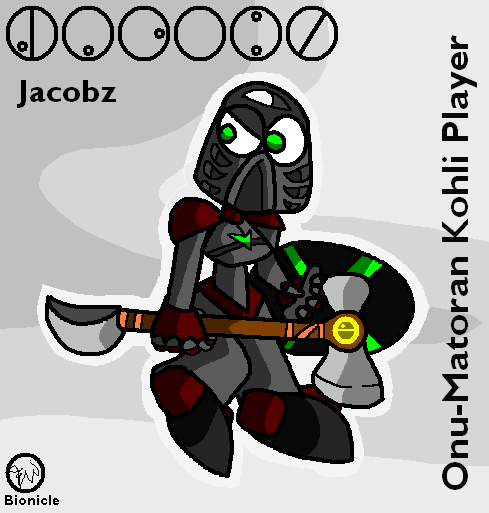 Description
Name: Jacobz
Gender: Male
Element: Earth
Tool: Kohli Stick, Kohli Sheild
Mask: Kanohi Hau
Friends: Zarafet, Whenua, Soso, Novi and Jaller
Island: Metru-Nui

Story: Jacobz is the other teammate of the Onu-Metru Kohli Team. He defends the Goals. Jacobz is a Good friend to Zarafet and Jaller and has a strong relationship with Soso the Ga-Matoran. He also friendly rival to the Ko-Matoran Kohli Attacker Novi. In his spare time he helps Whenua down in the Achives.