Solitude
Solitude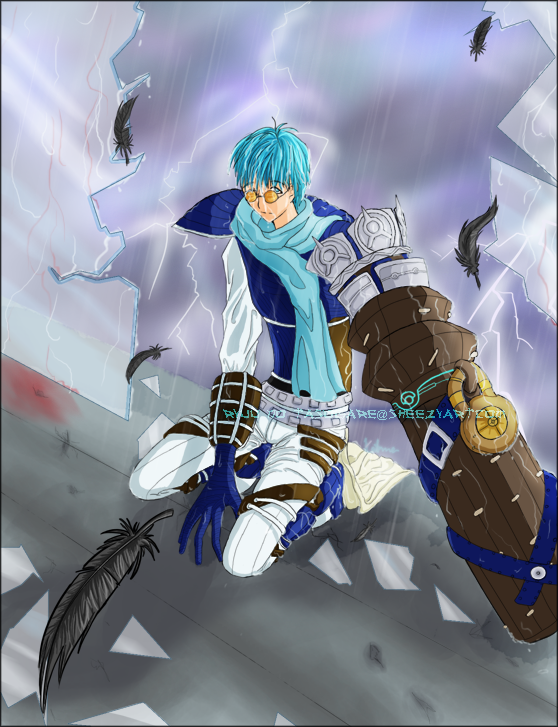 Description
To quote my SA account:

"*gasp* A slightly dark/agnsty/emo-ish picture of Ovan! HASEO'S HAD TOO MUCH INFLUENCE ON HIM! D8

*cough* Actually, it's fitting of him, since he does seem to spend a lot of time in solitude, especially right after the whole Shino coma incident...And I sort of intended for this to be around that time. *almost put in ghostly Shino and Ina to demonstrate that*

The thunderstorm is there because we've had a whole bunch of those recently...Knocking out the power and making me redo bits and pieces of work on this...*thankfully saved this a lot*


Hahaah. The sketch version of this was started a long time ago, but I just recently got it CGed. Rather, I started CGing it at home a week ago. I kept on wanting to give up on it because it didn't look amazing, and it was taking so damn long. DD:

Fun facts about this picture:

1. Aina/Ina was originally going to be in the picture too. At first, Ovan was supposed to be seated, reading, and Ina would be next to him, also reading or else sleeping. If it was the latter, I was going to make a joke about how Ovan conveniently pulled out the porn novels after his twelve year-old sister had fallen asleep.

2. Instead of inking it on the paper, I inked this entirely on the computer.

3. The PSD image, while still present, is slightly messed up. I forgot to revert it back to its original size, did other stuff, and couldn't undo it quite to that point. DD: Ah well. I wouldn't have minded being able to make it slightly larger, but I can probably still make it that size without distorting it much. Besides, now all of the shaky lines are gone, making me look like I'm better at drawing straight lines than I really am.

4. I actually sketched in the background for this picture, though in the sketch, there's snow, not rain.

5. This was drawn when I had (and still sort of do have) an obsession with drawing pictures involving broken glass.

6. Ovan's right eye is really there. Look at his shades. The right one has a thicker line at the top. That's actually his eye, but at this smaller size, it sort of blends in with his glasses. D: Granted, his eyes are often obscured by them, so it works.

7. When drawing the hair, I was trying (and failing) to imitate Angel Sanctuary.

8. Ovan's right eye was originally supposed to be closed because of a cut on his cheek. Now it's because he has a bunch of water dripping in his eye/down his face.

9. I got super lazy at the end because I just wanted to finish this.

10. There's another rain-related 100 pics challenge picture that I'm probably not going to post here. It's a picture that is possibly implying a pairing between one of my characters, and one of my friends' characters...Though we agreed that the two probably wouldn't be a realisitic pairing. It's probably going to stay in traditional media, and when finished, it will be shipped off to a really good friend of mine.

I may redo this. The sky sucks, and because the PSD is smaller now, I might just redo it later and try to make it look even better.

...Though I think that some of my focuses in drawing will now be more on backgrounds and perspective. I have one other drawing, about as old as this one, if not older, that has a background as well but is (half) coloured with prismas. I should finish that.
...I'm going to try to pull of a really awesome background for Kitty's prize. 8DD Because she's awesome and deserves a good picture.


The raven feathers are supposed to have double symbolism. Cookies go to anyone who can guess both. One should be easy, since it's general and not just something that .Hack// fans might notice. (They also added a little bit of a sense of depth that was otherwise lacking...>_> )

Ovan (c) Hiroshi (Yaaay! The real Piroshi! 8DD)
Art (c) me

Note: I'm not going to distribute this in many more places. I have other accounts on other art sites that I have listed on my front page. If this or any of my other art is found on sites/accounts aside from those listed, please let me know."