100 Themes - Blanket
100 Themes - Blanket
100 Themes - Blanket
by
Firiel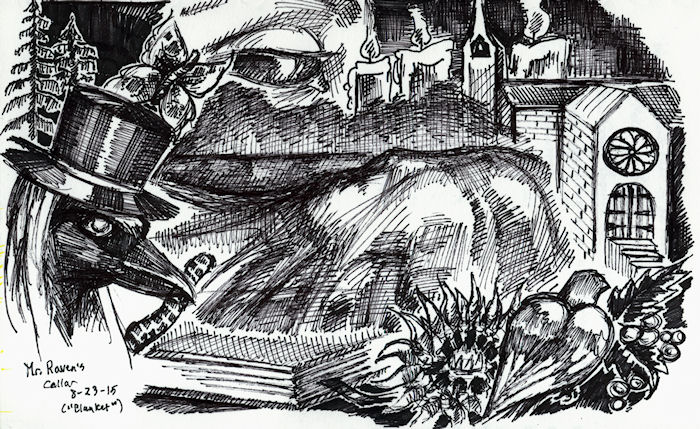 Description
"Mr. Raven's Cellar"

At first I thought I'd do something cute and fluffy for Blanket - a kitten under a quilt? - and then last night my muse gave me a loud interruption.
I was listening to the first few chapters of George MacDonald's Lilith on audiobook and my head was just so full, I needed to draw this morning.
The odd bird-man Mr. Raven and his wife with the dark starry eyes, Schrodinger's library-book, things which are other things in other places
(like prayers which are birds or anemone-flowers because living things come from living minds, and pine-forests which are Doors In and old mirrors
which are Doors Out), and at the center of it all... the cloth-draped figures on the plinths in Mr. Raven's ice-cold, candle-lit room. The figures which
are dead, but not dead. Only waiting, dreaming, deep and dark and still, letting their sorrows drift away until they wake into a different age.

I've read this book before, but it's been a long time. It's slow, and haunting, and weird and beautiful and dangerous as a dream - and it's been awhile
since I've let my pens play in that world. We were overdue for another journey.
General Info
Comments
0
Media
Ink or markers
Time Taken
Reference