Cornelia the Huntress: edited version
Cornelia the Huntress: edited version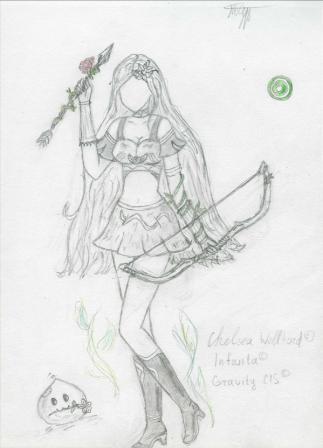 Description
Yay, I finally posted this!)) So, I was looking through the old pictures I made for my WITCH/Ragnarok Online crossover and I discovered I don't like them that much anymore. So, I decided to re-make them using the new skills I acquired during this year. This is Cornelia aka Hunter. I used the same costume I had designed for the first series of pictures, but I used a more interesting pose and added some new details. So, this is a better (as I consider) version of this pic:
http://www.fanart-central.net/pic-622180.html
And on the left is the poring holding a flower in his mouth named Bubble, he's also a signifficant charcter in my story.
BTW, the fic is finally posted! I wrote this crossover together with my great pal and artist Infanta (that explains my and her copyright for this picture). Please, read and review! You don't need to get registered to leave a review, so please, do it whether you like it or not, I really want to know your opinion!)) The link for the first chapter:
http://www.fanfiction.net/s/4086639/1/And_everything_began_with_a_poring
So, comment please, hope you like both the picture and the story)) I'll post drawings of other characters soon. P.S. Gravity CIS is the Korean company, the creator of RO, I also mention it as a copyright) *Wow, a big description* Enjoy! ^0^
General Info
Comments
16
Media
Graphite pencil
Time Taken
3 hours to get everything finished
Reference
no reference, except my old drawing)