Night Horse Fakemon
Night Horse Fakemon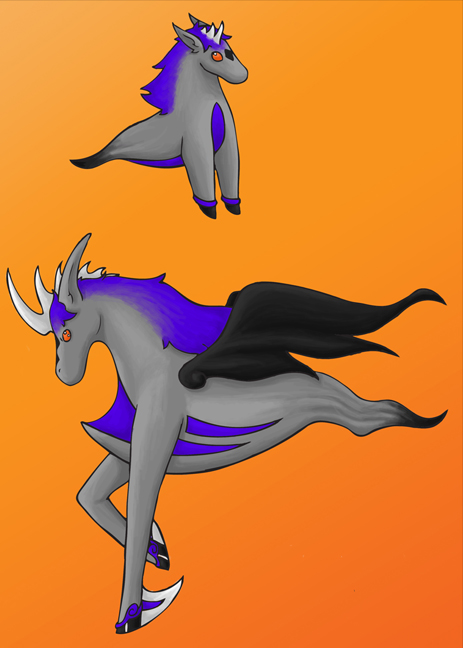 Description
Foalunar
(Foal+Lunar)
The Dark Foal Pokemon
Ghost
Rarely seen Pokemon who are quick to flee. They cannot float, but their low body weight allows them to glide for short periods of time.
Abilities:
Run Away
Magic Guard

Nytmaer
(Nightmare)
The Night Horse Pokemon
Ghost/Steel
A defensive Pokemon that will stand its ground if threatened. If provoked, it will charge head-first.
Abilities:
Anticipation
Magic Guard

Evolution Chain:
Foalunar - Nytmaer

I had a lot of trouble with these two! It's SO HARD to make a horse look like a Pokemon! Though, I am pretty happy with the way they both came out; Nytmaer more than Foalunar. I also tried a few new things with coloring them.

Critiques are welcomed! Please tell me what you think!