Ghost The Xenomorph King
Ghost The Xenomorph King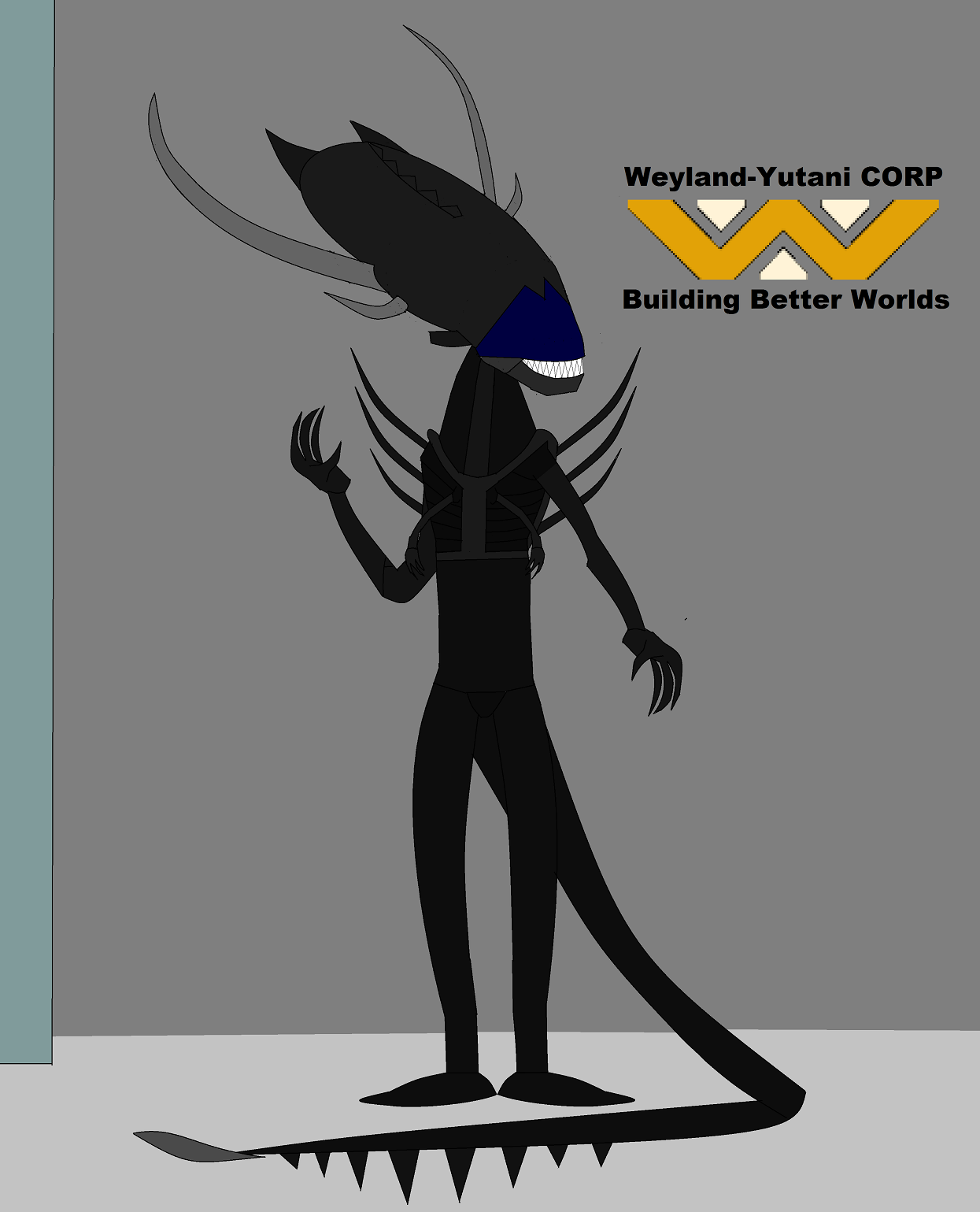 Description
And here was an Attempt at Creating the Full Body of my OC, Ghost the Xenomorph King.
Also generated a reasonable background.

Created it using MS Paint (pending skill improvement).

--------------------------------------------------

OC Bio --


Name: Ghost
Weyland-Yutani Designation: Specimen 94
Age: 25
Born: September 2nd, 2194 - In Weyland-Yutani Captivity
Rank: King
Height: 19 Feet Tall
Queen/Mother: Solara/Specimen 18

Attributes:
Greater Levels of Intelligence and Brilliance
Incredible Strength
Increased Mental Capability, Including forms of Psionic Power
Other Attributes

-

Backstory:

Ghost, known to Weyland-Yutani as Specimen 94, was born in Weyland-Yutani Captivity under the supervision of CEO Frederic Weyland.

Even at Birth, Specimen 94 was proven to be full of surprises, erupting from his Host in a different part of the body to avoid immediate capture by Weyland and his Scientists.

He was eventually captured and Spent his childhood equivalent days as a Warrior in Weyland-Yutani Captivity, undergoing various different tests and experiments before he managed to break out of Captivity, freeing his hive/family in the process and fleeing Weyland-Yutani HQ.

Even during his capture, he had displayed unusual levels of intelligence, as Wey-Yu scientists discovered that he had stopped his breathing to avoid being knocked out by Gas, and only pretended to be knocked out.
This resulted in his original captors being Severely injured, with at least one killed in the incident.

Once he was a Free Xenomorph, under the right time and conditions, he was allowed to gradually metamorphose into a Praetorian before reaching his peak status as a Rare King Xenomorph.

As a King, he was often regarded as Weyland-Yutani's more worthy adversary, as he was known to be unpredictable and powerful, later generating a hive consisting of at least a Dozen or More Xenos.
Additionally, when compared to other Xenomorphs, he tends to be an instigator towards Weyland-Yutani, taking the time to make a surprise appearance at Wey-Yu HQ, going as far as to collect new hosts for his children, reek havoc and kill staff members, or just do something to annoy or harm Weyland himself.

--

Hope you like it. :)

---

Ghost the King Xenomorph, (C): Myself.
Aliens/Xenomorphs, (C): Respective Owner(s).
General Info
Comments
0
Media
MS Paint
Time Taken
9 Hours
Reference