Aliens: Family
Aliens: Family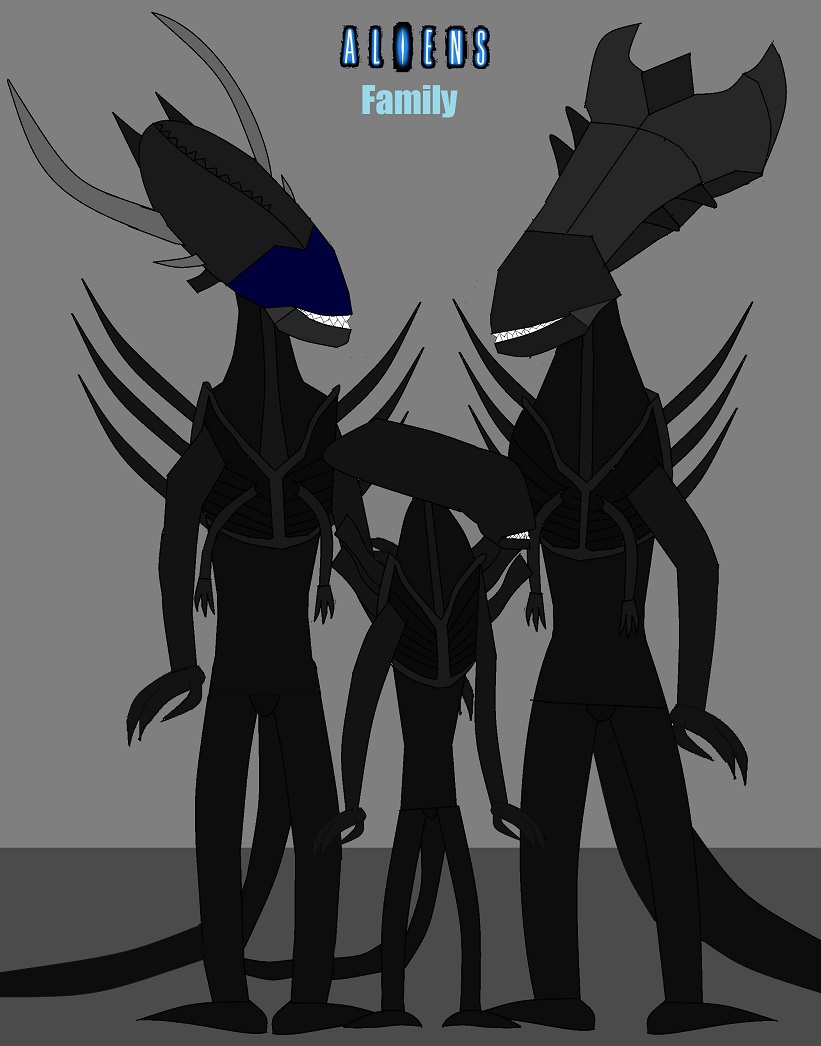 Description
This was, so far, the first time i had painted Multiple Xenomorphs in the Same Art Piece.
And it is despite my low-grade art skills.

But today, i present you with my very first Family Sized Xenomorph Drawing.

--


In this Family Sized Xenomorph Drawing are:

Ghost the Xenomorph King. (On the Left)
Azure the Xenomorph Queen, Ghost's Love Interest. (On the Right)

And, as an added bonus, one of their Daughters.

Niven the Xenomorph Drone. (In the Middle)



I was thinking of maybe drawing their eldest Daughter, Angel, but drawing a Praetorian head would have been a little more complicated.
Plus, since Angel is normally seen as a Praetorian in my Stories, maybe it is best if she stays back at the hive and help defend it.

Naturally, I've already made drawings/paintings of my King, Ghost, so chances are you may know about him and how he appears.

However, there is a chance you may not be familiar with Azure, Ghost's Love Interest.

So i will leave some info about her here.

--

Azure's Backstory:

Azure was born in 2192 as the First born daughter of Xenia the Xenomorph Queen.
As Xenia's first born, Azure would ultimately grow up and become a Praetorian Xeno.

Unfortunately, she does spend a stint in Weyland-Yutani captivity, where she would later be known as "Specimen Fifteen".

Post-Breakout from Captivity, We would go on to Meet her Love Interest, Ghost, who was notorious towards Weyland-Yutani for many different reasons, and was dubbed 'Specimen Ninety-Four'.

The Xenos would spend more and more time together over the course of life, and would fall in love.

But things became more Serious, when, in 2195, Azure went on to become a new Xenomorph Queen.
This would allow her to eventually start her own hive.. but she would ultimately hold off on it until she had the cherry on top of this great life of hers.

The Cherry wound up being the love of her life, Ghost.
This happened when, unexpectedly, he would later Metamorphose into a rare Xenomorph King.

But before that, he was Still a Praetorian serving his Mother, Solara.
During this time, Azure had asked him "May I be your Queen?".
It may as well be the Equivalent of a Marriage Proposal, since Azure becoming his Queen was a Life Changing Experience.
Since it would also mean later having Children and having power over your own hive.

And now, Azure is a Happy Queen, with Quite a few Children between her and her King, Ghost.
She loves him very much, and he loves her very much, too. :)

--

Hope you like it. :)

-

Ghost, Azure and Niven, (C): Myself.
Aliens/Xenomorph, (C): Respective Owner(s).
General Info
Comments
0
Media
MS Paint
Time Taken
9.5 Hours
Reference