Aliens VS Tremors
Aliens VS Tremors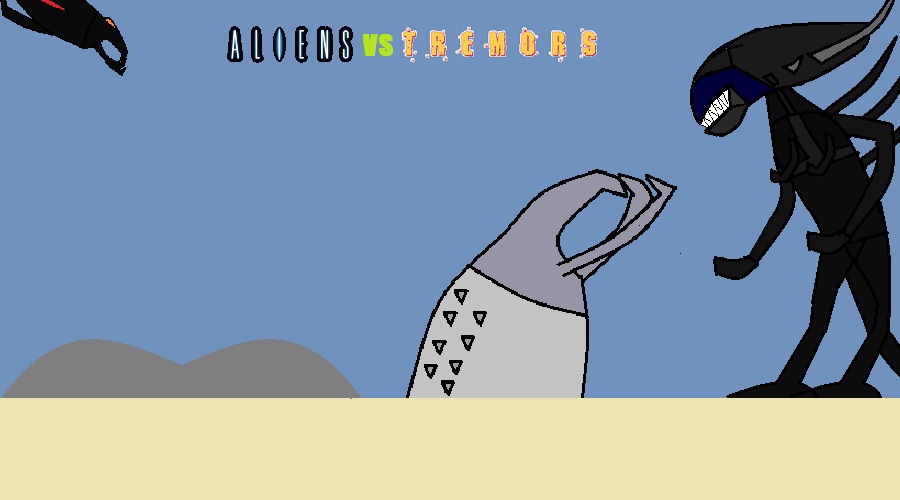 Description
First, Movie Studios brought You 'Alien VS Predator'.
Now, I bring you 'Aliens VS Tremors': A Series that pits the Xenomorphs from 'Aliens' against the Graboids from 'Tremors'.

--
Today, Thought i'd create a Piece of Art based off of my Fanfiction Series: "Aliens VS Tremors".
The Story was inspired, at least in part, by the AVP 2004 Movie.
It was also inspired by the fact that the 'Tremors' Monster Movie Franchise had been my favorite since 'Tremors 3: Back To Perfection' came out in 2001.
Which was about 15 Years before i ever got into 'Aliens' and the Xenomorphs.
These last few years had certainly been fruitful, especially since i had decided to, this year, create my Fanfiction series pitting the two species against each other.
"Aliens VS Tremors", as a Fanfiction, had turned out to be an Action Packed Nine Chapter Story.
And it featured a couple of my Xenomorph/Alien OCs.
--
In this:
My OC, Ghost the Xenomorph King, is Pitted against a Graboid.
With an
A.B./@$$
Blaster (From Tremors 3: Back To Perfection), seen at the edge of the image, flying in to sort of assist our Graboid Foe.
Given Graboids are 30 feet long, and my King Xenomorph is upwards of 19 Feet Tall when standing, I tried to make Ghost look Large when compared to a Graboid.
You may only see roughly 5-10, maybe 15 feet of a Graboid, since they are normally always, if partly, submerged by the Sands/Loose Soils.
There has been times where they have been fully surfaced, but on rarely seen occasions.
Although Ghost is seen in a Two against One Situation, the thing that may help him in this Situation may be his Size and Strength.
When it comes to Ghost's hands, i tried to give him a sort of: 'Come At Me'-type Appearance.
I also tried to go for a Desert Appearances, with sandy terrain and a large rock, since my story would have been set out in the Desert.
--
Link to my OC's Bio/Info:
http://www.fanart-central.net/pictures/user/GhostHunter94/860763/Ghost-The-Xenomorph-King
Link to Info on Graboids:
tremors.fandom.com/wiki/Graboi…
Link to my Story (Aliens VS Tremors):
http://www.fanart-central.net/stories/user/GhostHunter94/60576/Aliens-VS-Tremors
Hope you like it. :)
-
Ghost the Xenomorph King, (C): Myself.
Aliens/Xenomorphs, (C): Respective Owner(s).
Graboids/Tremors, (C): Respective Owner(s).
General Info
Comments
0
Media
MS Paint
Time Taken
3.5 Hours
Reference