Aliens: Imminent Danger
Aliens: Imminent Danger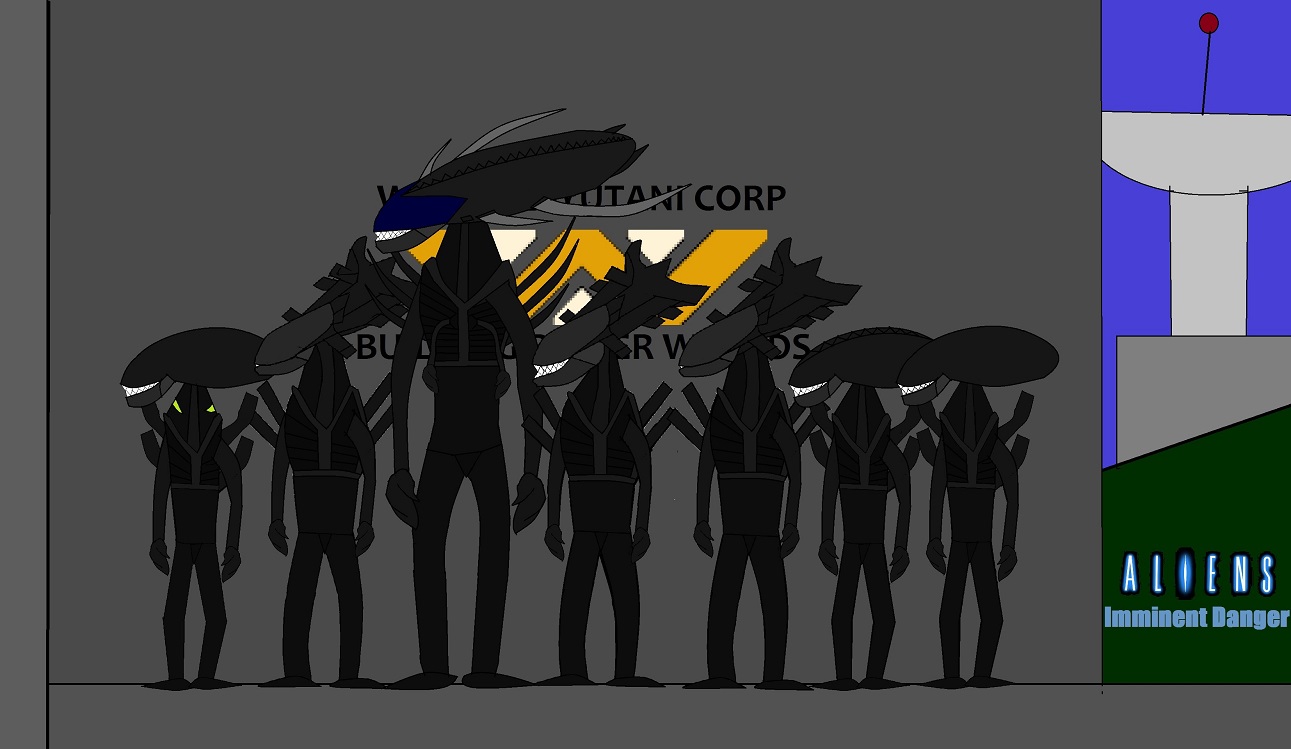 Description
I'm not gonna lie, not only am i surprised that i pulled this particular piece off, but i think its kinda awesome. :)

This is now the third time i've drawn at least two or more xenos in the same art piece.
Three Xenos in the Same Art Piece, which was my 'Aliens: Family' Art piece, was the most i had made in one Piece up till now.
Now we see a total of SEVEN in the same piece.

One thing you may notice is that I've decided to experiment by drawing Praetorian Xenos for this piece.
Like Queens, drawing Praetorians aren't exactly my Forte, especially Because they have similar head appearances.
Drawing those points and other things are a bit complicated, which is why i may stick to drawing my Xenomorph King and other Xeno Types.

BUT, this is now the second time that i've created more of a scene setting (doing what i could with my low-grade drawing skill), instead of just having it as a Plain White or Gray background.

Speaking of which, what exactly are we looking at, what is the story behind it?

---

The Story:

For Years, Weyland-Yutani has had to deal with trouble brought on by a Xeno they dubbed 'Specimen Ninety-Four'.
From his Birth in 2194, to his growth into a Warrior, to his growth into a Praetorian, and finally his eventual evolution into a Rare King, they had to deal with everything he threw their way.

Immediately upon his Birth, Ghost, AKA: Specimen Ninety-Four, had surprised the company by being born in an unexpected way, which resulted in his brief escape.

He would evolve into a Warrior first during his Captive Phase, before later breaking out with his family and molting into a Praetorian at some point after that.

During his time as a Praetorian, he would take his then-recently born siblings on adventures.
Sometimes he would take them to the Facility in which he was held, where he would unleash surprise attack missions, attempting to get what revenge he could on the company.

Then, imagine what happens when 2195 is underway?

Ghost would unexpectedly further molt into a Rare Xenomorph King.
Becoming a new Royal Xeno would mean getting to have children of his own.
And have children he would.

Which would later lead to what you see now.

Although Ghost had been by Weyland-Yutani once or twice as a King, neither time did he have children yet.
Now, he has a modest total of SIX Xenos under his arsenal.

--


To his Right, You Have:

Angel, his Daughter and Praetorian - (She is his right hand Xeno, which is another reason which she is placed to his right).
Yarmine, his Daughter and Praetorian.
Necro, his Son and Warrior.
Niven, his Daughter and Drone.


To his Left, You Have:

Arcane, his Daughter and Praetorian.
Neon, his Son and Drone.


--

One thing that Weyland-Yutani wasn't aware of was that they had a bit of a Blind-spot in one part of the Facility's Exterior.
Nobody was actively watching the area in question, nor were the security cameras able to see into the area.

Ghost took Advantage of this and hid with his Children in a Corner where the blind-spot was.
His Children would then await his orders as he would await the right time to make the next move.

---

Another thing you may notice, with Neon, is the Green Markings around his neck.
This is something i've depicted him with in my stories.

I'll be honest, I'm not sure what the story behind his markings are, I don't think i've ever written about that in my stories.

I don't really want to say they are the markings of an injury he sustained at some point, although it is certainly possible.
I definitely wanted to give him a way in which he would be able to stand out in the hive.

Also, The Height difference between a Praetorian and the smaller Warriors and Drones aren't that significant.
Certainly not when compared to the significant height difference seen on King Ghost.
But given there is nonetheless a difference in height between these lesser Xeno Classes, there is at least a Minor Visible Height Difference.


Of course, the question remains: how much trouble do you think Weyland-Yutani is in right now?

--

Hope you like it. :)


-

Ghost and my Xenomorph OCs, (C): Myself.
Aliens/Xenoomrphs, (C): Respective Owner(s).
General Info
Comments
0
Media
MS Paint
Time Taken
9.5 Hours
Reference