Aliens: Foreshadowing
Aliens: Foreshadowing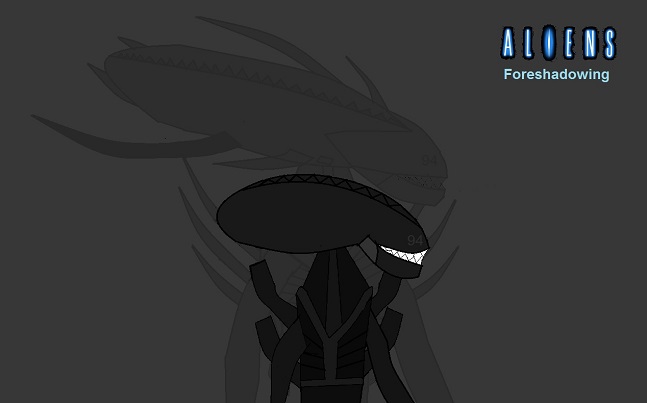 Description
Decided to create this interesting yet experimental piece.
Though, When i say experimental this time, it is because i am experimenting with a Shadow Effect.

--

Regardless, this is another piece featuring my OC: Ghost the Xenomorph.
And i'll be honest, I was torn on what to call this piece.

Either: 'Foreshadowing' or 'Inner Power'.

The reason for it would have been this:


In the Foreground, you have Ghost as a Mere Warrior.
This would indicate what he was like in the Past, when he was a more ordinary Xeno.

And if you look closely enough, you can see his Specimen Number on his head, which would have been a marking left over from his stay in Weyland-Yutani Captivity.
Even as a Warrior, Ghost was Quite Intelligent and Strong, certainly capable of getting a job done and taking down an enemy or two.


In the Background, as his Shadow, you have Ghost as a Rare King.
This would indicate what he would become in the Future.
It too has his Specimen Number on his Head, as a means of Reflecting how he would look in the future.

This would be Ghost's most Powerful and Dangerous Form.
As a King, he possesses great intelligence and strength, and is able to produce his own offspring.
People would be wise to avoid him if they were to encounter him as a King.

There was one Documented Time where he Single-handedly destroyed a Marine Settlement, taking out about a Dozen Marines in the Process.

--

Honestly, If i could picture what would go through Weyland-Yutani's mind when it comes to Ghost, It would be something along the lines of:

"I can't believe that Monster was born here."
"I hope we never have to encounter that Nightmare again."
"What have we done?"
"They don't pay me enough for this."
"If i lose my life to that Monster, It will be on Weyland's Hide."

To name a few examples.


But would this stop Ghost from Surprising the Company, No matter how he is seen?

Nope.
Besides, as what may well be the Company's most worth Adversary, Why would he want to stop?
It has been one of his Pastimes, in the Past, Present and it will be in the Future.
Because as long there is a Weyland around, you bet he will want to keep him and his company up on their feet at all times, Pestering them whenever he feels like it.

I mean, really, somebody has to put Weyland in his place, Right?

--

Hope you like it. :)


-

Ghost the Xenomorph, (C): Myself.
Aliens/Xenomorphs, (C): Respective Owner(s).
General Info
Comments
0
Media
MS Paint
Time Taken
4.5 Hours
Reference