Aliens: Molting
Aliens: Molting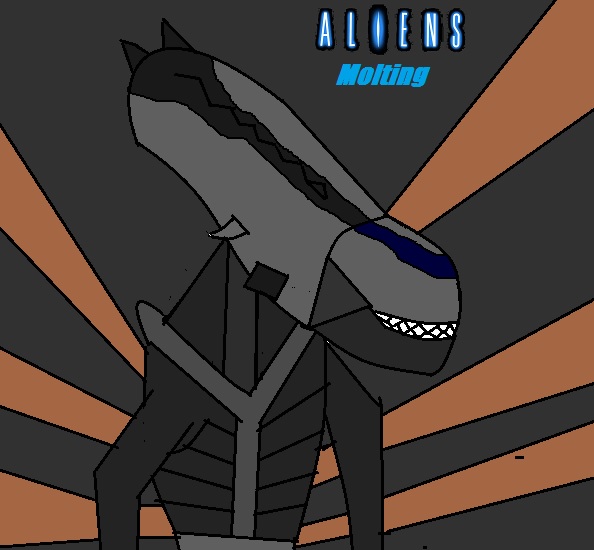 Description
So i had decided to conduct an interesting experiment with my Xenomorph: Ghost.

In past pieces, I had explained that Ghost's Origins are of a more normal Xeno, a Warrior.
But over time he would later molt into a Praetorian, before further molting into a Rare King.

Recently i wondered: "What would he look like during a period of active molting?"
In this case, You would see him molting from a Praetorian and into his Rare King form.

For the purpose of this Piece, much of his body is a More Gray Color because he would be Actively Molting at this time.
He would also be hung with Resin to the wall of his new Former-Grotto Home as he changed and grew.

By this point in his Molting, he had lost the back part to what used to be his Praetorian Head, or in other words: His Crest.
His head was also Elongating, which caused the middle and front part of his head to split open, creating a tear in his old, dead skin, and revealing new exoskeleton/skin underneath.

Although he managed to keep a fragment or two of his praetorian stage, you can see he has already gain his first of two sets of horns that he would bear as a King.
His next pair would not arrive until further into his molting phase.
Additionally, he had not yet grown in his Second Pair Of Arms, this would also come in later.

Plus, You can see another feature he would later bear now showing up beneath the split in his old, shedding skin.
The Blue part to his face on his forehead, which he would bear as a king, can be now be seen, along with the vertical ridging along his head.
And finally, As he is mounted to the wall of his then-new grotto home, his back protrusions were also elongating and becoming pointed.
He was also growing in his third during his molting process.

Oh, but what about height?
What would have changed by this point?

Well, Praetorians are about Ten Feet Tall, While Queens are 15-20 feet tall, and Ghost would be 19 Feet tall as a King.
I would have to say he is about 14 Feet Tall at this point, larger than a Praetorian, but still a little smaller than a Queen.

-


I think it is safe to say: Ghost was on his way to becoming something QUITE significant.


Hope you like it. :)

--

Ghost the Xenomorph, (C): Myself.
Aliens/Xenomorph, (C): Respective Owner(s).
General Info
Comments
0
Media
MS Paint
Time Taken
2.5 Hours
Reference