Adventure Time: The Next Gen
Adventure Time: The Next Gen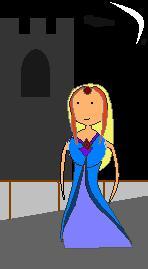 Description
Another Adventure Time Piece that i had created back in 2014, When i was in an Adventure Time Phase.

This piece was created after i had seen and come to adore Finn and Flame Princess as a Couple.

At the time, I wondered what their Child might be like it they ever had one.. Well, If there was ever a future based episode where they showed something like that.

And this is what had been spawned.
The Daughter of Flame Princess and Finn.

She is a Clear Mixture of the Two Characters.
In it she wears a Blue Dress, with the Color and her Mostly Blond Hair coming Father.
The Dress is similar in appearance to her Mother's, with the difference being the color.
Her Skin Color is more human in appearance, However i gave her a strand of fiery orange hair at the front to signify her mother was Flame Princess.
She also wears similar jewelry.

I'll be honest, Deciding the name was tough.
I was torn between: Phoenix, Cinder or something else.


As for the Background, which even to this day i try to improve the appearance of in later drawings, I just decided to generate a random background with my low-grade drawing skills.


What do you think?

--

AT Next Gen OC, (C): Myself.
Adventure Time, (C): Respective Owner(s).
General Info
Comments
0
Media
MS Paint
Time Taken
3 Hours
Reference