Neon the Dragon
Neon the Dragon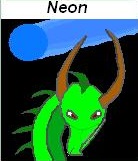 Description
Created back in 2013 when i was in a 'Spyro' Phase.

This would be Neon, Who is ironically a Neon Green Dragon.
He was a Dragon that appeared in my Spyro themed Fanfictions at the time.
Neon's Presence in the Spyro Universe would be a thing that happens in Spyro's Future, since that would be the setting in my Fanfictions.

My Dragon Heads, Although not bad even for its time, are certainly fair if you excuse the fact that i had trouble making it seem like you seeing my characters from a certain angle, or that they are looking in a certain way.

Oh, And as for the thing in the Background, I can't really remember what it was supposed to be.
Perhaps a Shooting Star/Meteor that was part of a Meteor Shower or a Comet.
I don't know, This is at least Six Years Old, so i can't really remember.


Hope you like it, Though. :)

--

Neon the Dragon, (C): Myself.
Spyro the Dragon, (C): Respective Owner(s).
General Info
Comments
0
Media
MS Paint
Time Taken
50 Minutes
Reference