Aliens VS Tremors: A Hybrid's Meal
Aliens VS Tremors: A Hybrid's Meal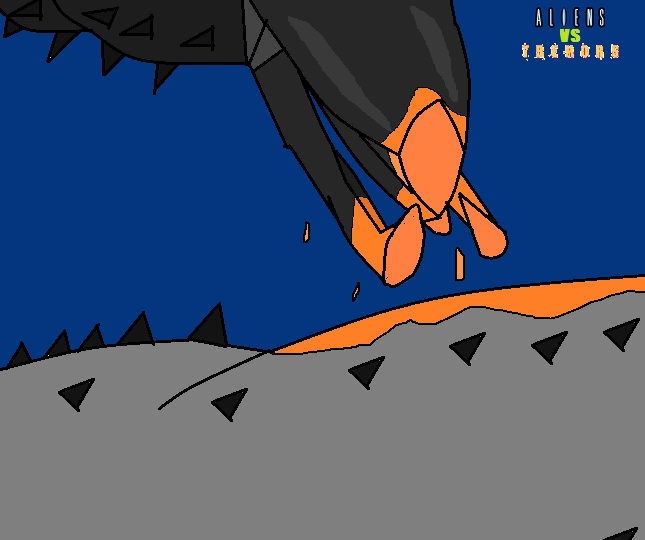 Description
Created this Art Piece Featuring my Grabalien Hybrid, Tempest, from my Fanfiction Series 'Aliens VS Tremors'.
------------------------
Recently i was thinking about the different and possibly surprising feats that Tempest could Possess as a Hybrid.
As a Creature who inherits both Graboid and Xenomorph Genetics, and as a Creature I Personally Created for the Purpose of my Fanfiction Series, I knew her Possibilities had to be Vast.
So, I thought: What is one feat that may surprise some, when it comes to Tempest?
Well, It could be what you see here.
-
A Little Backstory:
I was thinking about the Tremors Movies, and the Biology/Anatomy of a Graboid.
From Tremors 1 to the Recent Tremors 7, I had seen the different wounds that weapons left on a Graboid.
Plus, In Tremors 2 and 7, We had Holes that had been left in the side of a Graboid at the time they gave way to Shriekers.
So, Unless you were to deal with the Arrival of Shriekers, It would then suggest a Graboid's Body is normally pretty dang tough.
Especially when Bullets don't do the same thing you are seeing here.
-
Here: Tempest is seen EATING an Unfortunate Graboid.
This might be surprising considering Graboid is part of her Genetic Makeup, and her Body/Appearance is Very Much Graboid.
But then there are her Xenomorph Genetics, which are likely visible on Her.
Her Head, as it is visible in this shot, does Reflect a certain percentage of her Xenomorph Genetics.
It is slightly rounded in comparison to a Normal Graboid, Smoother and more reflective, along with Connective Tissues that are seen on Xenomorphs, along side of her head, connecting to her Jaws.
The biggest give away is her Body.
Given her Graboid and Xenomorph Genetics, with Xenomorphs possessing Exoskeletons, These Combined Genetics have Granted her a Powerful Body.
Making her a More Advanced Creature when Compared to a Normal Graboid.
Now, While Tempest is likely Aware that it is a Graboid that allowed her to be Born and Exist, If She is Hungry, She will eat it.
And unfortunately for our Graboid turned Meal, not only did her Mixed Genetics give her a more Powerful Body, It also gave her some Pretty Powerful Jaws.
This Means she is able to Eat Another Graboid, If she chooses to.
Her Powerful Jaws able to bite into the Strong Hide of a Graboid, puncture them, and eventually eat away at it.
And Considering how large Graboids are (30 Feet in Length, Including Varying Width and Mass, Depending on the Graboid and other Factors), Tempest has certainly treated herself to a Filling Meal.
--
Hope you Like it.

-
Tempest the Grabalien, (C): Myself.
Xenomorphs/Aliens, (C): Respective Owner(s).
Graboids/Tremors, (C): Respective Owner(s).
General Info
Comments
0
Media
MS Paint
Time Taken
2.5 Hours
Reference