Who are these people
Who are these people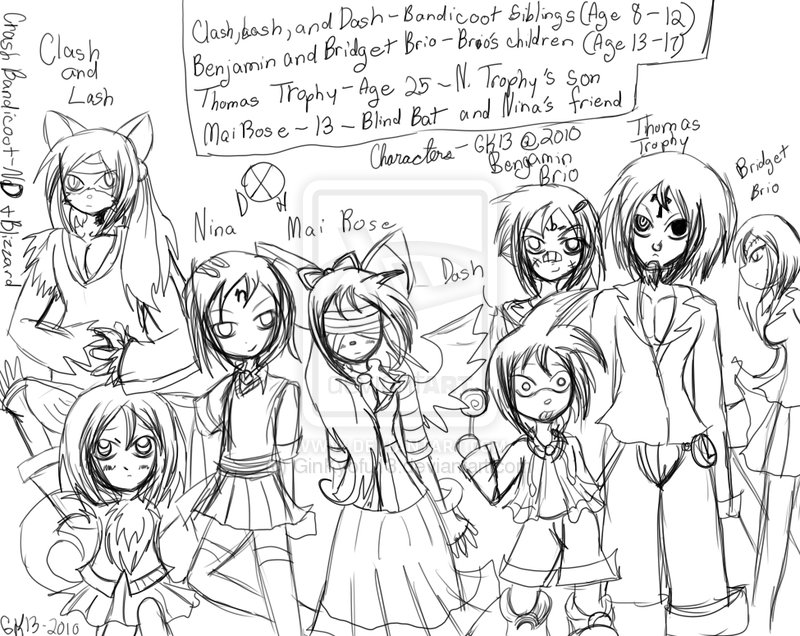 Description
Name: Mai Rose
Species: White Bat
Age: 13
Height: 3'16
Type: Goth
Hair: Red and Black hair
Eyes: Red
Skin: White
Personality: Shy, Goth, Intelligent, and Pure-Hearted (Good)
FACTS:
She is a very intelligent Bat except she is very blind. She doesn't care about her sight except she uses her sixth sense and shows no sign of her emotions. She is a close friend to Nina, Crash, Coco, and Crunch.
She is one of the gifted bats who able to used good mojo. She has the powers to control fire and water, but does not use it that much. She seems to love reading yaoi and she encourages Nina to tries to impress Crash Bandicoot. She is very good with gymnastic and material arts. Rumor has it, that she believes to be a witch doctor when the moon turns full.
She doesn't seem to care about her appearance except she shows some angered when Neo tries to harm her friends and she appears to have a human form. She is a very mysterious character who always pops anywhere, but sometimes she can be a clumsy when struggles to carry items.
She is a registered student of Evil Academy, but she is not that much evil except she shows pity the school and their foundation. (I haven't done a drawing of her yet)
Wears: She wears Victorian dress with red bows and white outlines that is length to her knees, black and white socks, and red shoes. She has a big red and black bow behind the back her head and she has bandages over her eyes to protect her. She wears black gloves, and two silver bracelets.
----
Dash Bandicoot
Age: 8
Species: Bandicoot
Eyes: Green
Hair: Red hair
Fur Color: Similar to Crash
Personality: Cocky, Intelligence, Hyperactive, Impatient, Cheerful, Determine, and strong will
Height: Shorter than Crash
He is Coco's, Lash's, Clash's and Crash's younger brother who shares a similar role to Crash Bandicoot except he speaks pure English. He is very cocky sometimes, but he shows some compassion. He respects Crash Bandicoot as a role model.
He is very aggressive when it comes to battle, he have a foul mouth, but sometimes have his own way when it comes to clues. He has a sharp eyes and a strong will that never get broken. He respects Crunch as an older brother and Aku Aku as a father figure, but calls him an "Old Man".
He is determining to fight alongside with his brother and he loves to eat sweets. He does not have any problem with sweets when he eats 120 cakes in 3 seconds without any care.
He ends up being yells at Aku Aku and he does admit it. He doesn't seem to sleep and he shows a sign when controlling monsters. He carries a slingshot to use on his enemies and he seems have more intelligence than other characters.
Wears: He wears a red jacket, brown jeans short, white socks, and sneakers. He has a headphone behind his ears and he has a two spiky gloves. He has the same tattoo similar to Crash Bandicoot.
---
Lash and Clash Bandicoot (Bandicoot Twins)
Age: 12
Personality: Kind, Naive, Shy, Quiet, Well-Mannered, Inteligent, and Curious (Lash)
Kind, Sadistic, Loud, Curious, Rough, Serious, Impatient, and Raughty (Clash)
Species: Bandicoot/Cat Humanoid (Lash) and Bandicoot (Clash)
Gender: Female (Lash) and Male (Clash)
Eyes: Pink (Lash), Amber (Clash)
Hair: Pale purple (Lash) and Blond (Clash)
Fur: White (Lash) and Red Orange (Clash)
Height: 4'12
Occupation:
Lash: Ballet, Violinist, Peotic, Actor, Japanese Shaman, Geisha, Magic User, Acrobat, Cook, and Tai-Chi
Clash: Martial Art, Ninja, Wrestler, BreakDancer, Guitarist, KickBox, Tai-Chi, and Gardener
Wears: Lash wears a Black Japanese School Uniform with a red necktie under the collar. She wears black socks, and white shoes. She has a bow on the right side of her ear. She has a pink bow at the tip of the tail and red roses under her shirt on her right pocket.
Clash wears a black shirt without any shirt, he has a necktie on his forehead, and he does not seem to care about his appearance. He does not seem to wears shoes, red huge scarf around his neck with a mask covering his mouth.
Bio: Lash appears to be a half-breed bandicoot and she seems care about them. She uses her powers if needed to protect them from harm. She appears to be human except she has the bandicoot ears and cat tail. She is the first bandicoot to be a half breed and doesn't seem to care about her appearance.
She cares about her brother, but there is something that doesn't add up about her. She appears to be mysterious and uses her powers to calm the wild beast down. She shows mannered to everyone, even respects the villain. She appears to be protective over Clash and deeply care about him.
Clash is an aggressive bandicoot with a heart of gold and he shares a relationship with his twin sister. He shows some respects to Crunch, but sometimes he can be competitive to Crunch, DAsh, and Crash. He shares a strange interest with Aku Aku and he is Aku Aku's pupil.
He shows kindness to others, but he do not seems to respect some who tries to harm his family, and sometimes he reads yuri, yaoi, with hentai mangas. He does not seem to care at all, but sometimes he has a perverted mind. He does not always show it, he is very serious, and he does not show any emotions to anyone except to Lash. He cares about Lash as a twin sister and if those who tries to harm her, will feels his wrath.
Relationship: Crash (Older Brother), Coco (Older Sister), Crunch (Friend), and DAsh (Younger Brother)
Thomas Trophy: N. Trophy's only serious son is a scientist, he does enjoy doing evil things, but don't seem to like his father due to the fact he was abandoned by him along with his mother. His mother died when he reaches the age of six, and he was sent to Evil Academy when the orphanage refuses to take him in.
He is a heavy metal guitarist, but shows some interests in Bridget. He shows no sign of hate or concerned, but do what his father says. He have no strong will and loves Bridget for an apparent reason, but shows some hate to Benjamin due to the fact they are rivals. He believes to be a half clone of N. Trophy and a demon, he is afraid of showing his true self without the others running away.
Bridget is N. Brio's daughter and so far the wise one. She is the older sister to Benjamin and don't seem to care about being a villain. She is a Hardcore RockStar from her own band, but she don't want to take neither side. She enjoys a normal life designing or creating creatures or machines. but don't seem to enjoy Cortex or like him.
She loves her father dearly after being sent to Britain's Evil Academy; N. Brio never did told them about his daughter and son. She cares about Thomas and didn't care what he appears to be.
Benjamin Brio, he is a loud mouth, hyperactive kid who don't seem to care about any villain. He loves Dash as a brother, and don't seem to take villain serious unlike his father or his sister.
He shows so many interesting in girls and have a huge crush on Coco, but never express it. He appears to be the only character who is a normal kid. He don't have a good father-son relationship, but does care about his sister. He shows to be interest in math and strong will in an adventure. He appears to have orange hair and blue eyes.
He is layback and enjoys N. Gin as a close friend or an father figure.
Characters: Ginkyofu13
Original:
http://ginkyofu13.deviantart.com/gallery/#/d2wm6q3
General Info
| | | | |
| --- | --- | --- | --- |
| Ratings | | Comments | 4 |
| Category | Games » - by Genre » - Action (Platforming) games » Crash Bandicoot » Fan Characters (OC's) | Media | Digital drawing or painting |
| Date Submitted | | Time Taken | |
| Views | 573 | Reference | Paint Tool |
| Favorites... | 0 | Keywords | Bandicoot, Brio, Trophy, family, OCs, friends, Evil, Academy, good, evil, strang |
| Vote Score | 0 | License | Berne Convention |