Two New Members of FM5
Two New Members of FM5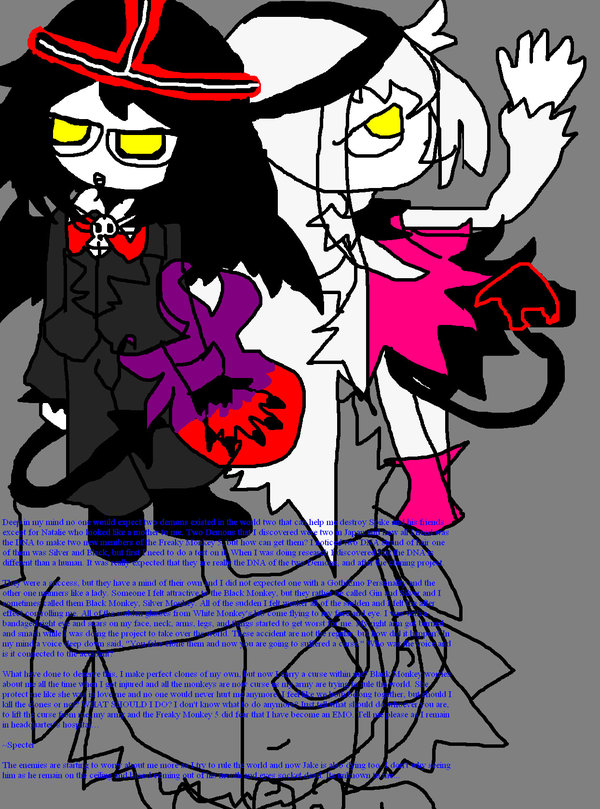 Description
"Deep in my mind no one would expect two demons existed in the world two that can help me destroy Spike and his friends except for Natalie who looked like a mother to me. Two Demons that I discovered were two in Japan and now all I need was the DNA to make two new members of the Freaky Monkey 5, but how can get them? I noticed two DNA strand of hair one of them was Silver and Black, but first I need to do a test on it. When I was doing research I discovered that the DNA is different than a human. It was really expected that they are really the DNA of the two Demons, and after the cloning project.

They were a success, but they have a mind of their own and I did not expected one with a Goth/Emo Personality and the other one manners like a lady. Someone I felt attractive to the Black Monkey, but they rather be called Gin and Silver and I sometimes called them Black Monkey, Silver Monkey. All of the sudden I felt weaker all of the sudden and I felt the after effect controlling me. All of the sudden glasses from White Monkey's lab come flying to my face and eye.

I was with a bandaged right eye and scars on my face, neck, arms, legs, and things started to get worst for me. My right arm got burned and smash while I was doing the project to take over the world. These accident are not the regular, but how did it happen? In my mind a voice deep down said, "You fake clone them and now you are going to suffered a curse." Who was the voice and is it connected to the accident?

What have done to deserve this, I make perfect clones of my own, but now I carry a curse within me? Black Monkey worries about me all the time when I got injured and all the monkeys are now curse as my army are trying to rule the world. She protect me like she was in love me and no one would never hurt me anymore. I feel like we both belong together, but should I kill the clones or not? WHAT SHOULD I DO? I don't know what to do anymore? Just tell what should do whoever you are, to lift the curse from me, my army and the Freaky Monkey 5 did fear that I have become an EMO. Tell me please as I remain in headquarter's hospital…

~Specter

The enemies are starting to worry about me more as I try to rule the world and now Jake is also dying too. I don't why seeing him as he remain on the ceiling and blood coming out of his mouth and eyes socket dead. Its unknown to me..."

Two Member of Freaky Monkey 5 Black Monkey and Silver Monkey are sisters both carries each a curse and strange things is happening to Specter as he finish cloning them.
Black Monkey started to feel bad for him as he remain in the bed of the headquarters of the hospital.

Silver Monkey worry about him also and gets along with Yellow Monkey very well. They cannot break the bond and Red Monkey is jealous that Silver is in love with Yellow Monkey and continuing yelling at him. Pink and Silver are like sisters also, but Black Monkey said, "Another Perky one of our clan, how dum?"

Specter always being taken cared by Black Monkey and she protect him no matter what. Jake almost killed Specter, but Black Monkey summoned tentacles from the ceiling by using her demonic powers.

Its was so horrifying making all Pipo Monkeys fear her and Jake's friends to be afraid of her. As she killed him, but Gin Kyofu and Silver Horror the real ones are trying to figured out how did Specter got their DNA.

Gin wouldn't forgive him, but sometimes have feelings for Specter as a friend.
Silver Horror have feelings for Yellow Monkey, but love making sweet stuff for the Monkeys. While the others are trying to figure out something weird was going on...

Spike and his friends along with their new friends have to find a way to lift up the curse before things started to get worst in Tokyo with strange accidents.

Specter, Pink, Red, Jake, Spike, and the others - SCEA and SCEI (Sony Entertainment)

Black Monkey (KuroiGin), Gin Kyofu, and Silver Horror - me (Ginkyofu13)

Art and Writer - Me (Ginkyofu13)

My first Ape Escape Fanfiction and Drawing.

Black Monkey is a GIRL! not a boy... GOT IT! SHE'S A GIRL!