Father and Son
Father and Son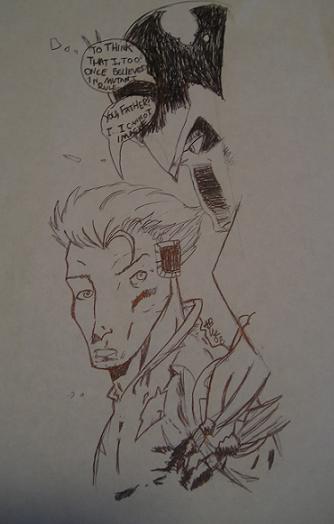 Description
Yay! X-Men pictures again! (That's mostley what I have in my drawing binder at this moment! X3 I know, I'm a nerd!) Only this is a panel! That's not really that important to any plot! YAAAY!!! I'm not a plot spoiler!!! Anywho...This is a panel I copied off of a X-Men, Age of Apocolypse comic. And these are two of my favorites, which I love alot.
ENJOY OR ELSE!!! I will have to MISSPELL THINGS!!! BWAHAHAHAAAA!!!
Incase you cannot read:
Magneto: To think, I used to beilive in mutant rule
Quicksilver: You Father? I..cannot imagine...
Magneto and Quicksilver are (c) of
Marvel
General Info
Comments
2
Media
Ink or markers
Time Taken
...ummm...a...while?
Reference
A COMEEK BOOK!!!