Fat Girls? Not a Chance.
Fat Girls? Not a Chance.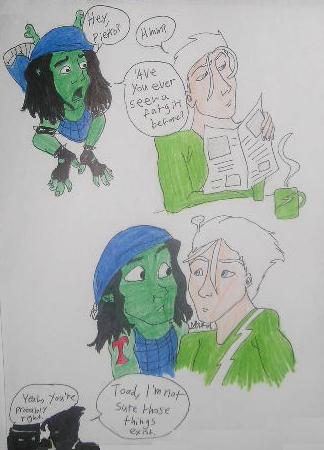 Description
Toad: Hey, Pietro?
Quicksilver: Hmm?
Toad: 'Ave you ever seen a fat girl before?
Quicksilver: ...
Quicksilver: Toad, I'm not sure those thing exist.
Toad: Yeah, you're probably right.
I'm serious! In comics, there are like, no fat girls ever! Ok, in one of the original Spider-Man comics, I saw Mrs. Watson, and she was kinda a big lady, but then again old! Thus, my point proven!
Quicksilver
[color=darkblueand[/color]
Toad
are (c) of
Marvel
General Info
Comments
14
Media
Colored Pencil / Crayon
Time Taken
...couple minutes
Reference