Lucky Death Star!
Lucky Death Star!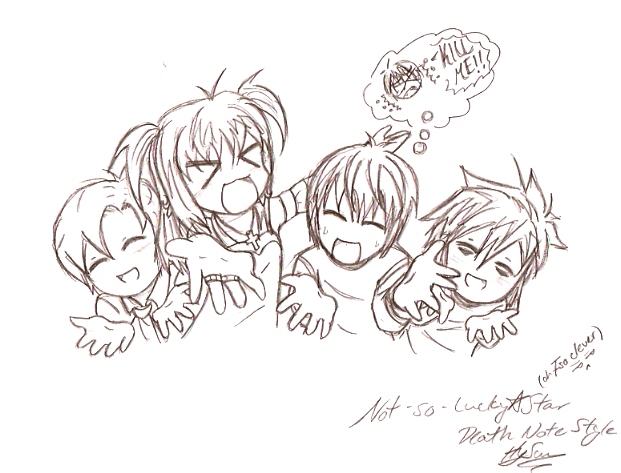 Description
Ugh, again I made it cute-ish. -____- I'll post a not-cute one soon.

Lawl, the title has a Star Wars reference thing in it.

From left to right if you can't tell who's who:

Matsuda, Misa, Light/Raito, L

Misa came out the best here. I think she be cute. =3

Yes, I know the hands look just plain weird, but I tried to make it in the "Lucky Star" style, but I gave up half-way and half-assed it. -__-

Sorry, just had to add Raito's little thought bubble, 'cause I can see him being forced to do this.

Questions:
Is there already a pic like this here? If there is, I'm sorry and I'll take it down.

And should I put this under "Crossovers" or is it fine here? I just don't want people getting mad at me.

...That's it.
General Info
Comments
12
Media
Graphite pencil
Time Taken
not long
Reference
pic of Lucky Star pose