Cat Light & L (MayorYesterday request)
Cat Light & L (MayorYesterday request)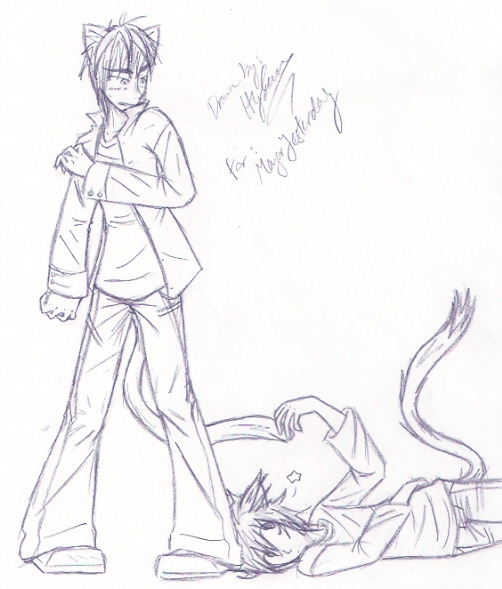 Description
Here's your request, MayorYesterday! I hope you like it. ^__^
This isn't necessarily shounen-ai, so I'm not going to rate it that. Just playing with a tail.
Raito was fun to draw in this one (I LOVE how he turned out), but I had a bit of a hard time with L. His head was driving me crazy. >_< It just wouldn't look right to me no matter what I did, but I tried...
Do you want it colored? It won't be done right away 'cause I get kind of lazy sometimes or have I'll too much to do in Study Hall to do it. Also, I'm afraid of ruining it at the inking part. But I'll do it if you really want me to. =)
So, yeah, hope you like it (so far?)!
Colored Version:
http://www.fanart-central.net/pic-710956.html
General Info
Comments
13
Media
Graphite pencil
Time Taken
ehh... a while to make it look right to me
Reference
nothin'