IT'S A COOKBOOK!!!
IT'S A COOKBOOK!!!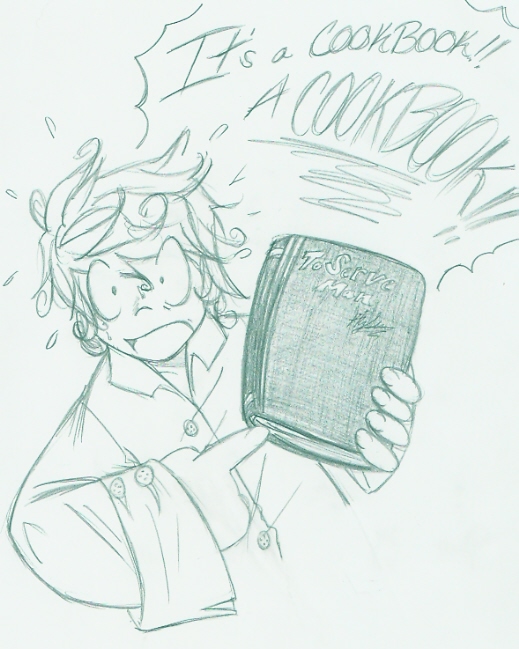 Description
Near's next case also involved a book, but he didn't think it'd be THAT kind of book...
The book is titled "To Serve Man." People who've seen that
Twilight Zone
episode will understand this joke and it's been used in many different things. If not, then check out this video which contains the main highlights of the episode:
http://www.youtube.com/watch?v=WudBfRa0ETw&feature=channel_page
And the movie
Naked Gun 2 1/2
had a brief reference to it which can be seen here:
http://www.youtube.com/watch?v=NIufLRpJYnI
The reference to the "cookbook" was also used in the animated movie
Madagascar
on the plane during the lemur meeting when a lemur shouts during the freak out about the "foosa" attacking while holding a book titled
To Serve Lemur
, "It's a cookbook! IT'S A COOKBOOK!!" I can't find a clip to show that, but it happens during that scene if you happen to have the DVD.
I just think Near would be very... disturbed about a cookbook dedicated to listing the best ways to "enjoy" a human being in various recipes. Far more disturbed than he was about the Death Note. Again, this was fueled by a spout of randomness on my part. ^__^U
*This is now under Crossovers since the cookbook is from a different show.*
**I'm labeling this as a spoiler due to the "big twist" to the title of the book. Along with spoiling the ending of that particular Twilight Zone episode. Sorry, y'all! XD **
General Info
Comments
7
Media
Graphite pencil
Time Taken
not long
Reference
nothin'