LoE pg. 11
LoE pg. 11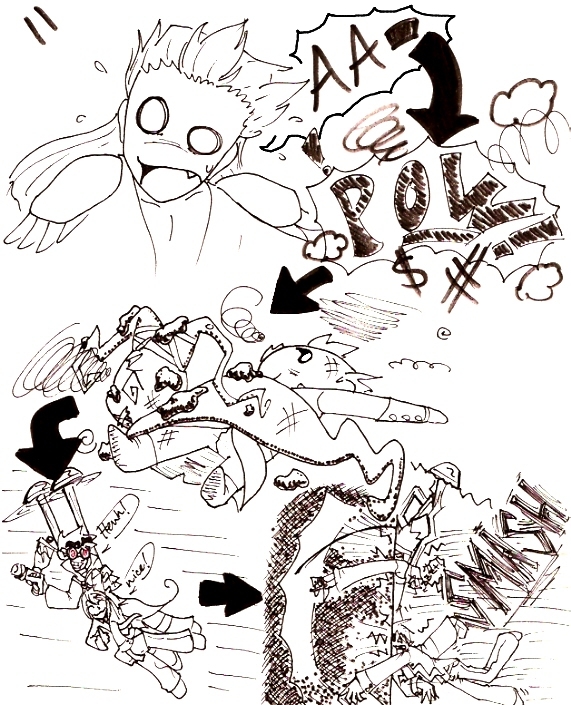 Description
Page 11 - Phew...?
Ansem:
*sees oncoming goo-covered Guadian*
AAAAAAAAAA--
SPLAT!!!POW!!!
*Guardian lands on Ansem, both knocked out*
Light:
*gives Jack thumbs-up*
Jack:
Henhenh!
SMAAAASH!!!! *into...something?*
Ohh, they thought they've escaped, eh? Pbbbsh! Heh, with ME drawin' this?! I think not! BWAHAHAHAHAHAAAA!!!
Also, Light kinda looks like Gin from Bleach there... I love that guy (Gin)! Light-o, you'd better feel HONORED to be blessed with the Gin-smile!
Next: http://www.fanart-central.net/pic-790843.html
Previous: http://www.fanart-central.net/pictures.php?pid=790735
General Info
| | | | |
| --- | --- | --- | --- |
| Ratings | | Comments | 5 |
| Category | Anime/Manga » - Crossovers | Media | Ink or markers |
| Date Submitted | | Time Taken | ? |
| Views | 719 | Reference | nothin' |
| Favorites... | 1 | Keywords | ansem, jack, spicer, light, yagami, guadian, line, of, evil, kh1, dn, xs |
| Vote Score | 0 | License | Berne Convention |