LoE pg. 17
LoE pg. 17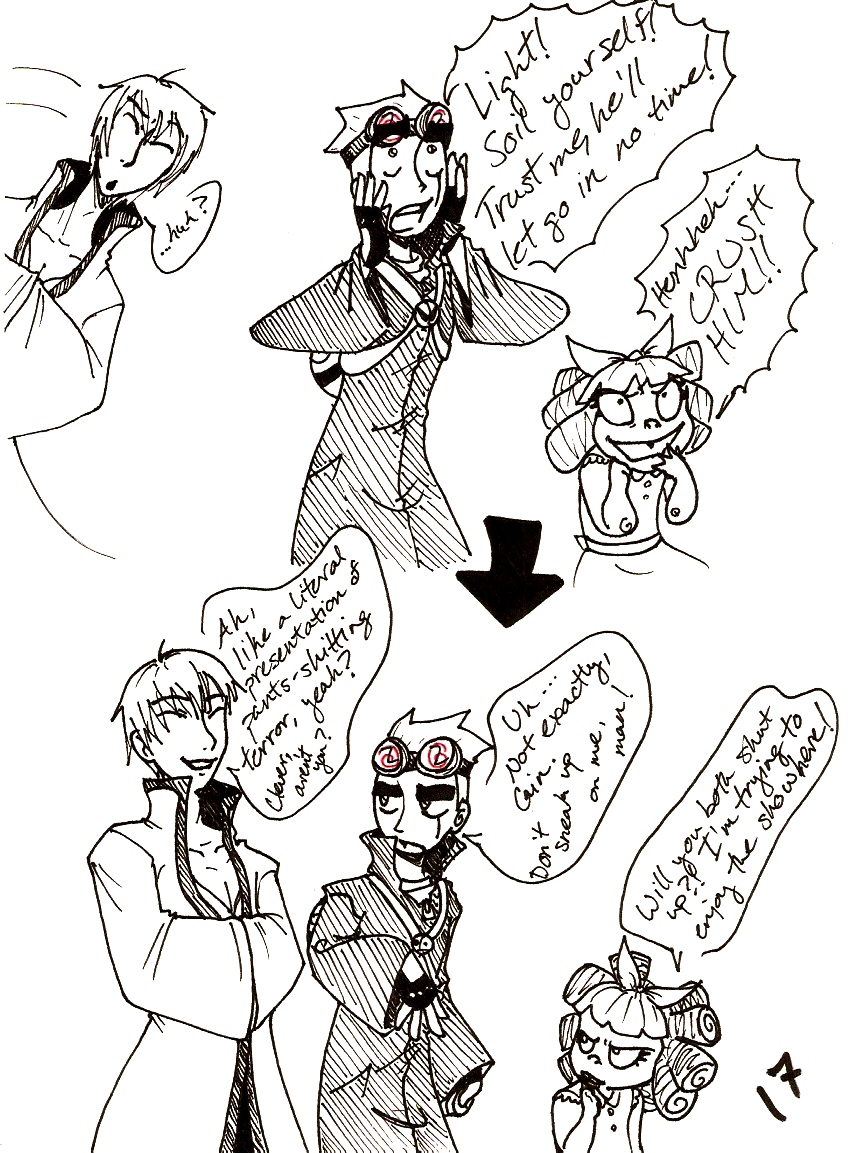 Description
Page 17 - Uh... Seriously, Gin?
Jack:
*holds hands to sides of mouth to amplify his voice*
Light! Soil yourself! Trust me, he'll let go in no time!
Gin:
*pops in, looks at scene curiously*
Hmm?
Darla:
Henheh... CRUSH HIM, MAX!!
*smiles sadistically*
Gin:
*referring to Jack's suggestion*
Ah, like a literal representation of pants-shootting terror, yeah? How clever of ya.
Jack:
Uh... Not exactly Gin. Don't sneak up on me, man!
Darla:
*shushes*
Will you both shut up?! I'm trying to enjoy the show here!
Next: http://www.fanart-central.net/pictures.php?pid=791495
Previous: http://www.fanart-central.net/pic-791379.html
Yup, more villains with lame "jokes" comin' in. Okay, I don't follow the new Bleach manga pages/chapters, so I'm not very aware of Gin's status of villainry anymore. So, I'm countin' him as a villain. Also, his outfit isn't quite right (it's supposed to be his outfit from the Hueco Mundo arc), so don't harp on me about that. I couldn't find good enough reference pics (they were all in his shinigami/soul reaper apparrel!).
Gin Ichimaru (c) Tite Kubo
Jack Spicer (c) Christy Hui, & WB/Cartoon Network Associates
Darla Dimple (c) Turner Pictures (or somethin' like that)
General Info
| | | | |
| --- | --- | --- | --- |
| Ratings | | Comments | 2 |
| Category | Anime/Manga » - Crossovers | Media | Ink or markers |
| Date Submitted | | Time Taken | ? |
| Views | 747 | Reference | pics of Gin and memory |
| Favorites... | 1 | Keywords | jack, spicer, darla, dimple, gin, ichimaru, bleach, xiaolin, showdown, don't, dance |
| Vote Score | 0 | License | Berne Convention |