LoE pg. 19
LoE pg. 19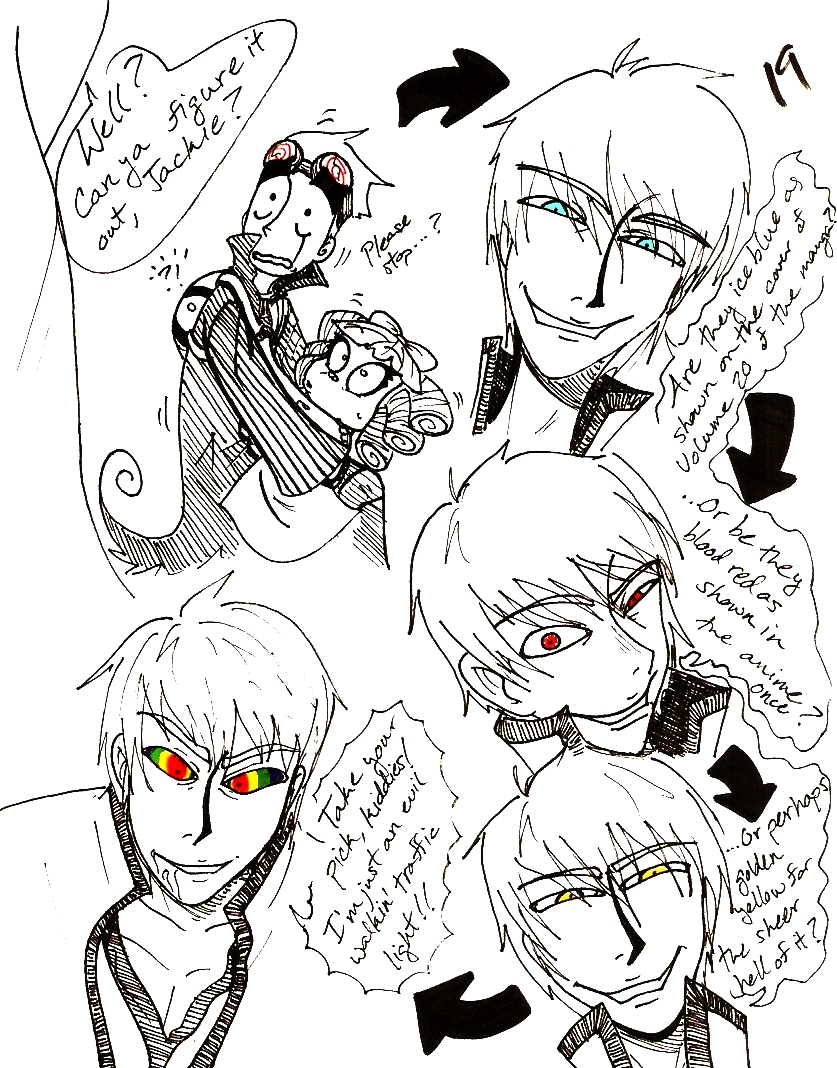 Description
Page 19 - FEAR THE RAINBOW EYES. TASTE THE RAINBOW EYES. Haha! Gross. X)
Jack & Darla:
*holding onto each other cowering at Gin*
Gin:
*towers over them*
Well? Can ya figure it out, Jackie?
Jack:
*quietly*
Please stop...?
Gin:
*opens eyes*
Are they ice blue as shown on the cover of Volume 20 of the manga?
*eyes change*
...Or are they red as shown in the anime once?
*eyes change again*
...Or are they golden yellow for the sheer hell of it?
*leers/advances, eyes goin' KRAZY!!*
Take your pick, kiddies! I'm just an evil walkin' traffic light!
Heh, just 'cause I was in conflict over what color Gin's eyes really were. I just couldn't remember, and I was having trouble finding pics of it for some reason. In my search, I heard mention of his eyes being ALL these colors at some point in time in the various different Bleach mediums (anime, manga...). Based on his WikiBleach page, I have concluded that his eyes are indeed ice blue:
http://bleach.wikia.com/wiki/Gin_Ichimaru
What a creepy cutey. :3 Heheh, Jackie and Darla sure don't like it when he opens his eyes. Also, the idea of Gin deciding to scare little children/teens with his eyes just completely appealed to me, and I just had to exploit it. XD
Next: http://www.fanart-central.net/pic-791577.html
Previous: http://www.fanart-central.net/pic-791495.html
And yes, Gin's drool was necessary. Also, I like the red-eyed Gin the best. He came out AWESOME.
*snuggles him*
General Info
| | | | |
| --- | --- | --- | --- |
| Ratings | | Comments | 2 |
| Category | Anime/Manga » - Crossovers | Media | Ink or markers |
| Date Submitted | | Time Taken | not long |
| Views | 906 | Reference | various pics of Gin's face and memory |
| Favorites... | 1 | Keywords | spicer, darla, gin, ichimaru, creepy, xiaolin, showdown, bleach, cats, don't, dance |
| Vote Score | 0 | License | Berne Convention |