LoE pg. 25
LoE pg. 25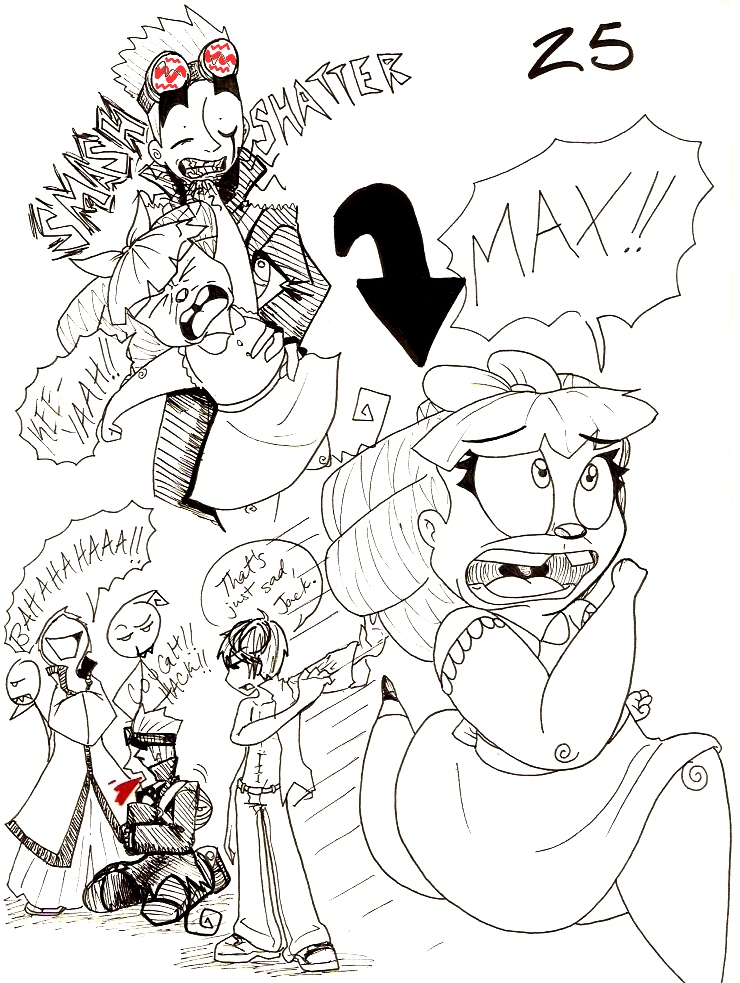 Description
Page 25 - DARLA... PUUUUUUUUUNCH!! in the jaw. Ow.
Darla:
*punches Jack's jaw*
KEEE-YAAAAAAH!!
Jack:
*drops her due to pain, falls to knees, spits out blood*
Gin:
*bursts out laughing*
Light:
*putting shirt back on* That's just sad, Jack.
Darla:
*runs to Max*
MAX!!
Yeah. Pretty self-explanatory here. Darla's escape isn't nearly as creative as Light's was. XD Ain't got much to say 'cept...
*refering to Running!Darla* THAT IS THE BEST DARLA DIMPLE I'VE EVER DRAWN!! SHE CAME OUT TERRIFIC!! WOOT!!
Next: http://www.fanart-central.net/pic-791847.html
Previous: http://www.fanart-central.net/pic-791764.html
Rated for the punch and Jack spittin' out blood. Nothin' much. Nothin' graphic. *shrug*
General Info
| | | | |
| --- | --- | --- | --- |
| Ratings | | Comments | 1 |
| Category | Anime/Manga » - Crossovers | Media | Ink or markers |
| Date Submitted | | Time Taken | a little bit, sucked at the inkin' quality =__= |
| Views | 820 | Reference | nothin' |
| Favorites... | 1 | Keywords | jack, spicer, light, yagami, gin, ichimaru, darla, dimple, line, of, evil, punch |
| Vote Score | 0 | License | Berne Convention |