LoE pg. 26
LoE pg. 26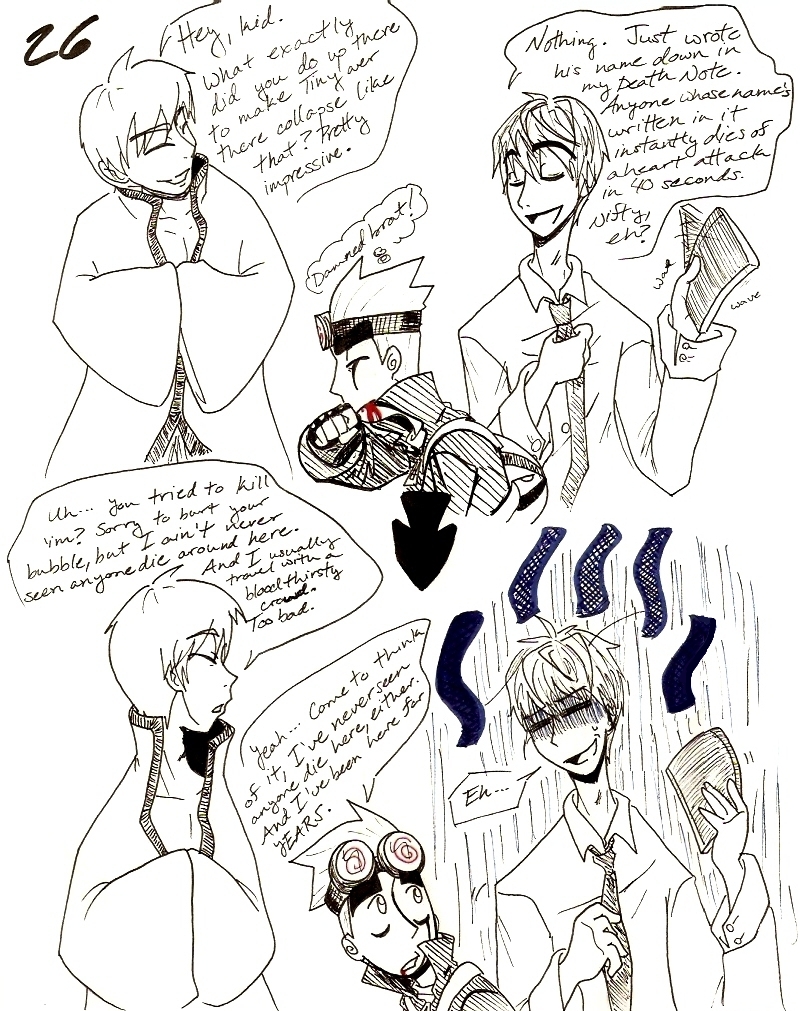 Description
Page 26 - Wipe that grin off your face. We have a problem. :|
Gin:
*to Light*
Hey, kid. What exactly did you do to make Tiny over there collapse like that? Pretty impressive.
Light:
*straightens tie, waves DN around*
Nothing. Just wrote his name down in my Death Note. Anyone whose name's written in it instantly dies of a heart attack in 40 seconds. Nifty, eh?
*feelin' pretty smug*
Gin:
*serious*
Uh... You tried to kill 'im? Sorry to burst your bubble, but I ain't never seen anyone die around here, and I usually hang with a bloodthirsty crowd. Too bad.
Jack:
Yeah... Come to think of it, I've never seen anyone die here, either. And I've been here for YEARS.
Light:
*freezes, dumbstruck*
Eh...?
GOD, I love Light's final expression. ^___^ Just marvelous. It looks much better in pencil, though:
http://hybrid-sunshine.deviantart.com/gallery/#/d2uuhdf
Next: http://www.fanart-central.net/pic-792000.html
Previous: http://www.fanart-central.net/pictures.php?pid=791846
General Info
| | | | |
| --- | --- | --- | --- |
| Ratings | | Comments | 3 |
| Category | Anime/Manga » - Crossovers | Media | Ink or markers |
| Date Submitted | | Time Taken | due to distractions... longer than it shoulda |
| Views | 852 | Reference | nothin' |
| Favorites... | 2 | Keywords | light, yagami, jack, spicer, gin, ichimaru, death, note, bleach, xs, line, of, evil |
| Vote Score | 0 | License | Berne Convention |