LoE pg. 28
LoE pg. 28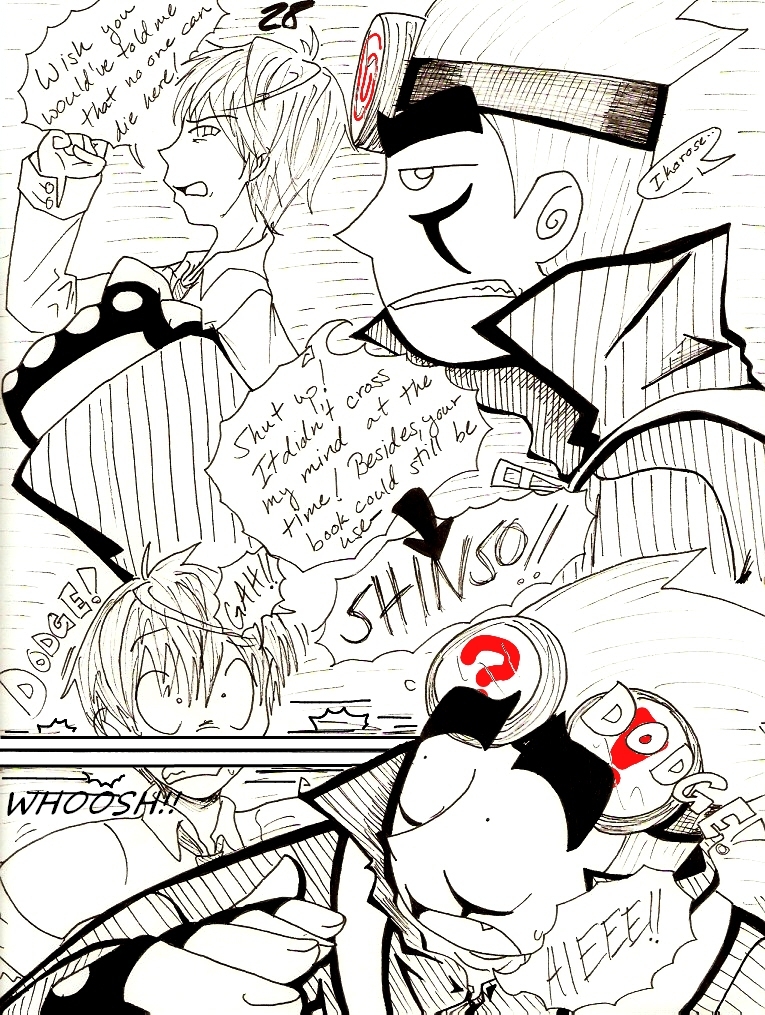 Description
Page 28 - DOOOOODGE!!!
(supposed to be a Team Four Star's DBZ Abridged reference: http://www.youtube.com/watch?v=P6P_sXbQtgc&playnext=1&videos=TqHMOaYuvjc Funny stuff. =) )
Light:
*still miffed*
I wish you would've told me that no one can die here!
|= |
Gin:
*in background*
Ikorose...
Jack:
Zip your lip! It didn't cross my mind at the time! Besides, your book can still be usef--
Gin:
SHINSO!!!
*SHINSO (Gin's sword) extends and zooms between Light & Jack*
Jack & Light:
*DODGE!!*
Next: http://www.fanart-central.net/pictures.php?pid=792496
Previous: http://www.fanart-central.net/pic-792000.html
Yeah, wasn't sure exactly what Gin shouts out to activate his zanpakuto, so I used what I'm PRETTY SURE he says in japanese, according to his Bleach Wiki page (
Ikorose
). I am not a Japanese person or even of Asian decent (African-American here XD ), so I don't know that much about the Asian language. I don't really watch the subbed version of Bleach unless I'm lookin' for a particular scene or just want to hear what the Japanese voice actors sound like (I LOVE GIN'S!!! (obviously)).
General Info
| | | | |
| --- | --- | --- | --- |
| Ratings | | Comments | 1 |
| Category | Anime/Manga » - Crossovers | Media | Ink or markers |
| Date Submitted | | Time Taken | a while |
| Views | 914 | Reference | nothin' |
| Favorites... | 1 | Keywords | jack, spicer, light, yagami, death, note, xiaolin, showdown, line, of, evil, shinso |
| Vote Score | 0 | License | Berne Convention |