AU Sayu
AU Sayu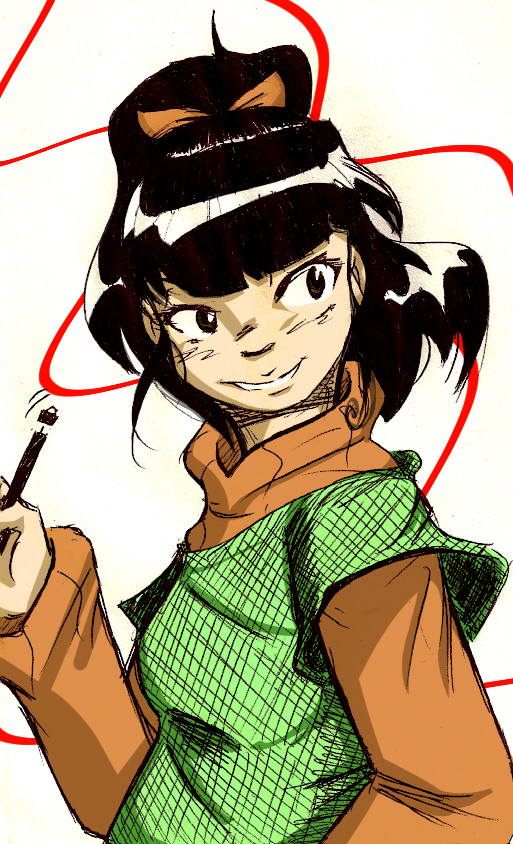 Description
A digitally colored version of my pen drawing of Sayu from my minor mental AU where she's Kira.  
GIANT EXPLANATION FOR THE AU/SKIP-ABLE IF YOU TRULY GIVE LESS THAN A CRAP:
To make up for her lack of diabolical genius (as far as we know, anyway 

), she'd kind of leech off her brother's observations, since he'd somehow still be under more suspicion than her due to his intelligence.  For example, he'd notice his room was entered due to his secret security measures, which was implied to be a regular thing for him to do even before the case, and he'd confront her about going into his room, thus making her consider that surveillance may have been installed around the house since she hadn't been in there.  In canon, Light states that his family probably wouldn't have noticed the paper in the door, but that it was still obvious, so Sayu could have noticed it at some point, and snooped in there anyway, remembering to put it back when she left, thus prompting Light to come up with more discreet alerts like the pencil lead snapping.  So, he would think that she was the one who snuck into his room, assuming she didn't know about the door handle and pencil lead.  So, since she would have also put the paper in the door (Light would probably mention that the paper wasn't the only way he knew she'd gone in there), she would wonder who else would since she'd be aware that their mother would't have noticed the paper at all or thrown it away, assuming it was garbage.  Get it?  Henh, this scene has been floating around my head for a while; was kind of what sparked this Kira!Sayu What If AU in the first place.  

This was originally drawn from memory, so her clothes aren't quite right (based on the outfit she wore when was first shown asking Light for help on her homework; basically her first appearance, could've just said that 

).

The original pen drawing is over on DA:  http://hybrid-sunshine.deviantart.com/art/Stylized-Sayu-Yagami-389933385
General Info
Comments
1
Media
Unspecified
Time Taken
Reference