Zora (request from orangegirl)
Zora (request from orangegirl)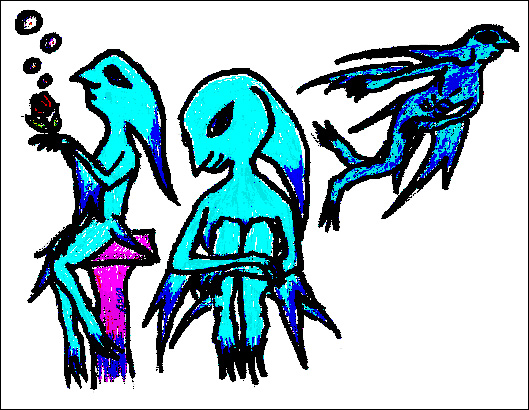 Description
I didn't forget your request orangegirl!!

*burys head* It's my first attempt at drawing a zora! (I really have almost no idea at all what they look like) But I didn't do anything with this on Photoshop (hence the terrible look), I just stole some old (forgotten) markers out of my bro's room to color this. Not to mention (wink wink Brooke), my scanner hates me, so it likes to mutilate anything I want to scan anymore *sigh*. (Poor DL...:'(:-X) Comment if you wish, and plz let me know what they're supossed to look like! :'(

Hope you like it orangegirl!

-:-Hylian_Ice14-:-

I'D LIKE REQUESTS PLEASE.... ANYBODY! AND I DON'T JUST DO LEGEND OF ZELDA EITHER! I DO LOT'S OF NINTENDO STUFF, OR ANIMALS OR W/E, JUST PLEASE LEAVE SOMETHING ;_;!