Igrain
Igrain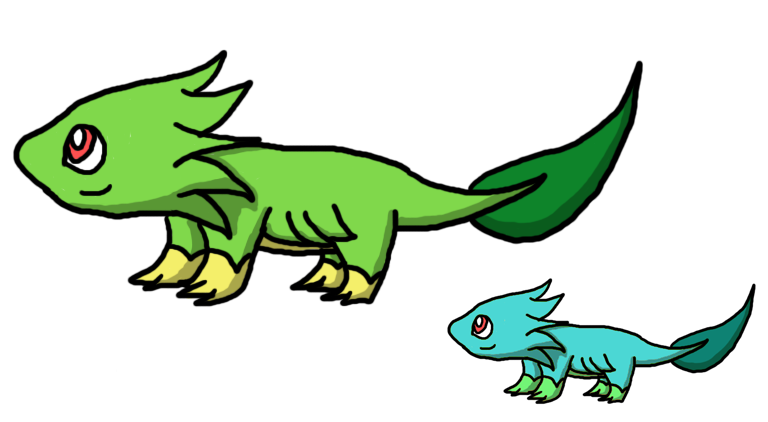 Description
Igrain #001
Type: Grass
Species: Soil Pokemon
Color: Green
Gender Ratio: 87.5% M, 12.5% F
Body Shape: Tailed Quadruped
Size:
http://i51.tinypic.com/if5sw5.png
Abilities: Overgrow (Intimidate)
Evolution Method:
Igrain >Lv. 17> Igrowth >Lv. 33> Gigauana
Name Origin:
Iguana + Grain, to sound like Ingrain
Pokedex Info:
-Topaz:
It spends its time eating grass and resting. By eating grass seeds, grass begins to grow along its body. It's advised to trainers that Igrain should not eat fungus, as it could cause growth of mushrooms on its body.
-Amethyst:
Popular in the Chushin region as a pet, it'll stay loyal to people if kept healthy. If an Igrain isn't fed and watered properly, the grass on its body will begin to wilt and die.
Igrain has been through a lot throughout the years. First there was a grass type starter by the name of "Seedleaf" I made then I was younger. It was pretty obvious that it was a Chikorita ripoff, so much so that I'm rather embarrassed to show it now.
I eventually got rid of it and I remained without a grass starter for a while. The owner of this site has a pet Bearded Dragon, which inspired the idea for Igrain. As Bearded Dragons are of course, very bristly, I handed Igrain this animal origin as a Pokemon covered in blades of grass instead of bristles.
General Info
Comments
0
Media
Digital drawing or painting
Time Taken
30 minutes
Reference