Gigauana
Gigauana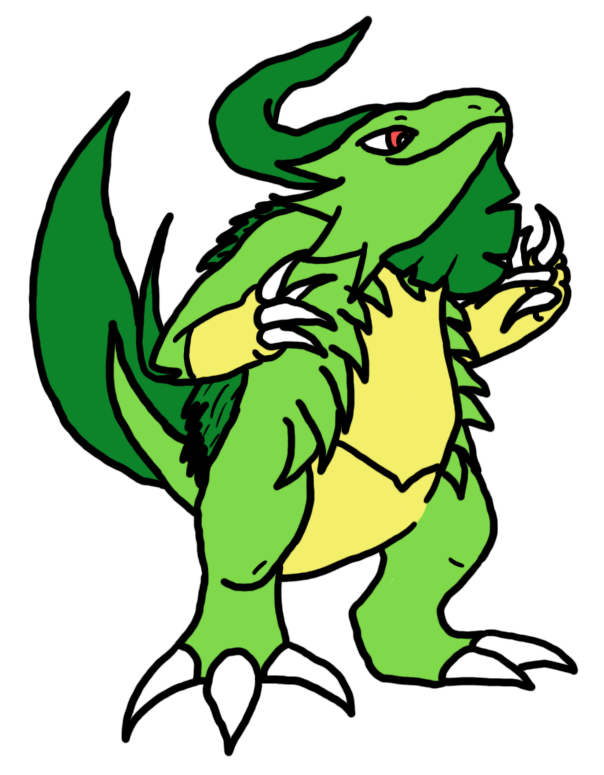 Description
#003 Gigauana
Type: Grass/Ground
Species: Meadow Pokemon
Color: Green
Gender Ratio: 87.5% M, 12.5% F
Body Shape: Tailed Biped
Size:
http://i54.tinypic.com/15cbz1g.png
Abilities: Overgrow (Intimidate)
Evolution Method:
Igrain >Lv. 17> Igrowth >Lv. 33> Gigauana
Name Origin:
Giga + Iguana
Pokedex Info:
-Topaz:
Very small ecosystems can sometimes develop on the backs of Gigauana. Typically, small bug type Pokemon such as Wurmple begin riding on its back, and the Gigauana will bring it to more suitable environments.
-Amethyst:
Because its back is mostly composed of grass and soil, some trainers will decorate their Gigauana's backs with miniature rivers or lakes for Pokeshows. Although, it may be hard to keep one on all fours.
Creator Comments:
Gigauana was a Pokemon long existing before Igrain did as a concept. I had the idea of a grass-type Iguana for a long time, and Igrain and Gigauana eventually became one family. I had to give Gigauana some Bearded Dragon traits, as well as give previous evolutions hints of iguanas, though it's mostly in their names.
Iguanas kind of have beards anyway, so Gigauana of course got a leafy one.
General Info
Comments
0
Media
Digital drawing or painting
Time Taken
45 minutes
Reference