She Said, She Said, She Said...
She Said, She Said, She Said...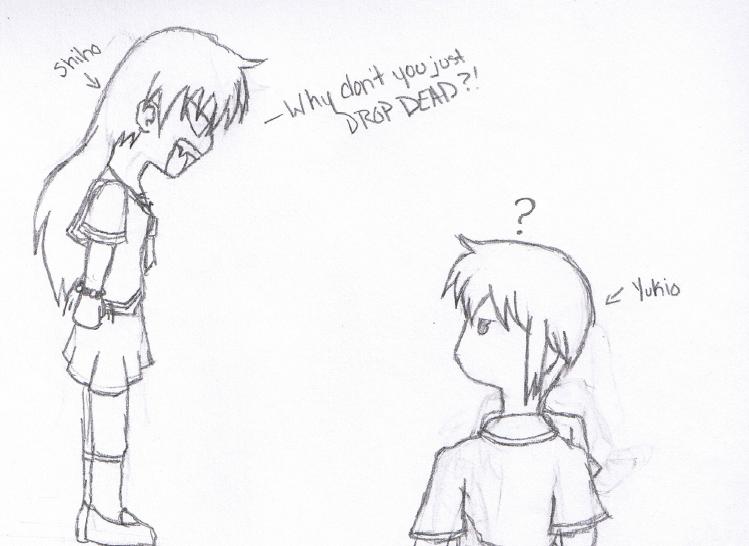 Description
;>_> My two main characters that I made for my Fruits Basket fanfic "Generation Next: Cursed, Double Cursed". Yukio and Shiho. They're the children of...Wait. Let me start from the beginning.

Kyou had a sister named Kasumi, whom was cursed by the horse of the zodiac (Shush, I know Rin is the horse. But...this was before I knew. x.x). Kasumi led to find another family that was also cursed, only by the Western Zodiac (Aries, Taurus, Gemini, Cancer, etc.). In that family she met a boy named Kippei, they liked each other, Sgot married when they got older and these are there kids. Yukio and Shiho. They're in the second generation of cursed children and whatnots. Yukio is named after his mother's favorite cousin Yuki. =] Shiho...is suspected to be named somewhat after Shigure, but I'm still debating on that fact.

=] They're double cursed! Whee! Yeah, Yukio is the rat (=O Who woulda thought?), and Shiho's the cat. So...they hate each other. But THEN! Shiho is the Aries, and Yuki's the Snake Bearer. So...they hate each other more. xP Fun fun.

So HERE. Shiho's walking home and she sees Yukio laying on the front porch of their house (he likes to do that to think) and out of nowhere he runs over and yells "Why don't you just drop dead?!" and runs inside. Yukio's just there like, "...Wha-?"
General Info
Comments
3
Media
Graphite pencil
Time Taken
A few minutes
Reference
Some Fruits Basket episode. x.x