They`re Laughing at Ya
They`re Laughing at Ya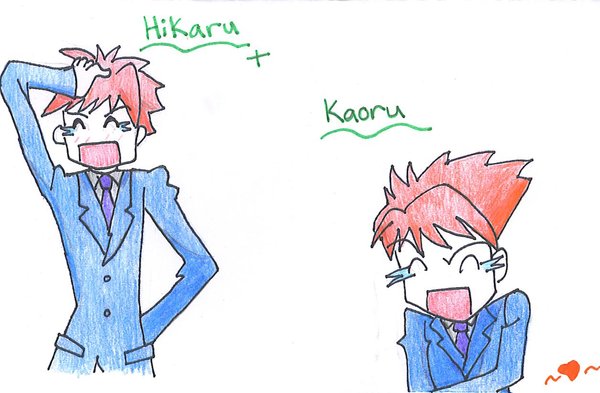 Description
Okay so these little characters are Hikaru and Kaoru Hitachiin and they`re twins. (Durrr..Can`t ya tell?) I them. It`s from the Anime Ouran Highschool Host Club.
The only way you can watch them in a America is read subtitles on Japanese episodes on youtube. Well that`s what I did.
This was my very 1st attempt at the twins so I think I did pretty good. I`ll try to draw a detailed one sometime this month hopefully. Because right now I`m just sketching the random chibis I find of them. No real details yet. If you wanna see a detailed pic look at my avvie. Lol.

Author Critique:
I think I need to work on shading.
I NEED backgrounds. That`s my biggest weakness! My ability to not draw backgrounds. XD
Details.XD
Kaoru`s supposed to look like he`s grasping his chest, (Like when you`re laughing really hard) But it looks wierd. So work on arm placement..I guess.

Any critique from you guys? Cause I`ll be glad.