Protector
Protector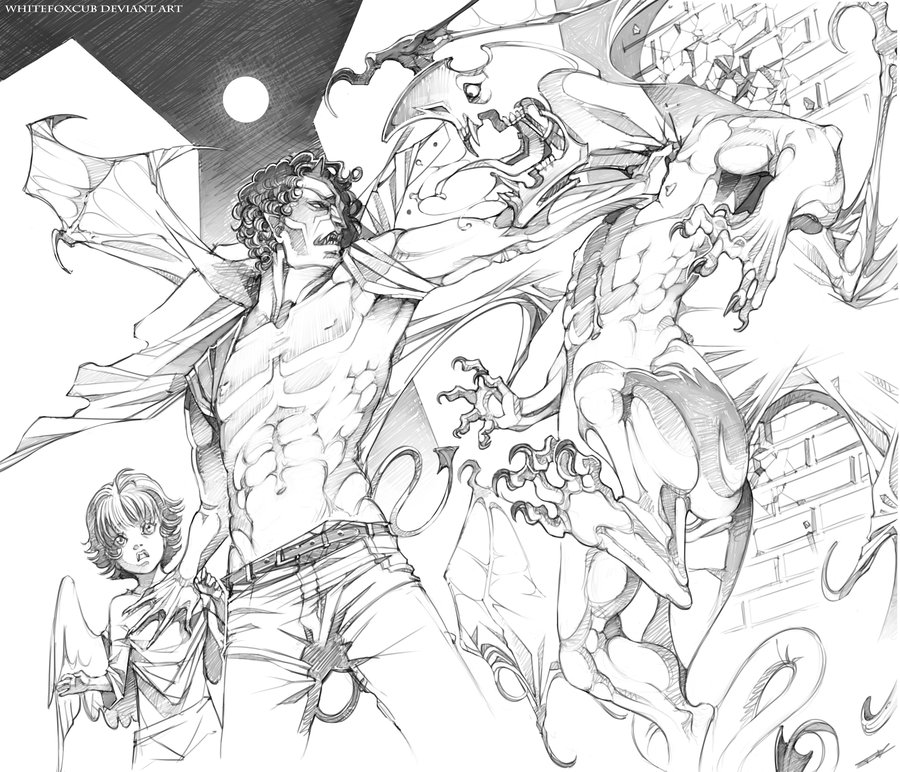 Description
Achilles implored the angel to return home as soon as possible, but stubborn little Icarus decided he wanted to explore the human world longer. Oblivious to the resentful demons that began to stalk, the longer the angel remained on human territory; the greater the sense of his presence became.
Luckily he has Achilles to protect him. 
--
I wish I could draw this comfortably on paper x-D I've been trying to train myself to rely less on Command + Z .. it's the keyboard equivalent of an enchanter F-T I started to lose the plot with the cracked bricks, it got confusing after a bit x-D I find it easier to draw shadows when working with black and white, I wish I wasn't so afraid of color D-X
I've been bad.. this surge of inspiration forced me to poop out random art. I must stop this procrastination and return to priority stuff OTL I've also got another drawing of Icarus I'd like to complete at some point x-D Coloured this time! 
This thing took a time period of 3 days to complete =I That's not me working nonstop obviously, you gotta get up to eat and drink and sleep 

Thanks for viewing :heart:
Music!!
http://www.youtube.com/watch?v=11JxrzuQqNA
http://www.youtube.com/watch?v=tJvaeZRSj9s
http://www.youtube.com/watch?v=1nj8s5-vDos