family picture sketch "map" of OCs
family picture sketch "map" of OCs
family picture sketch "map" of OCs
by
Jadis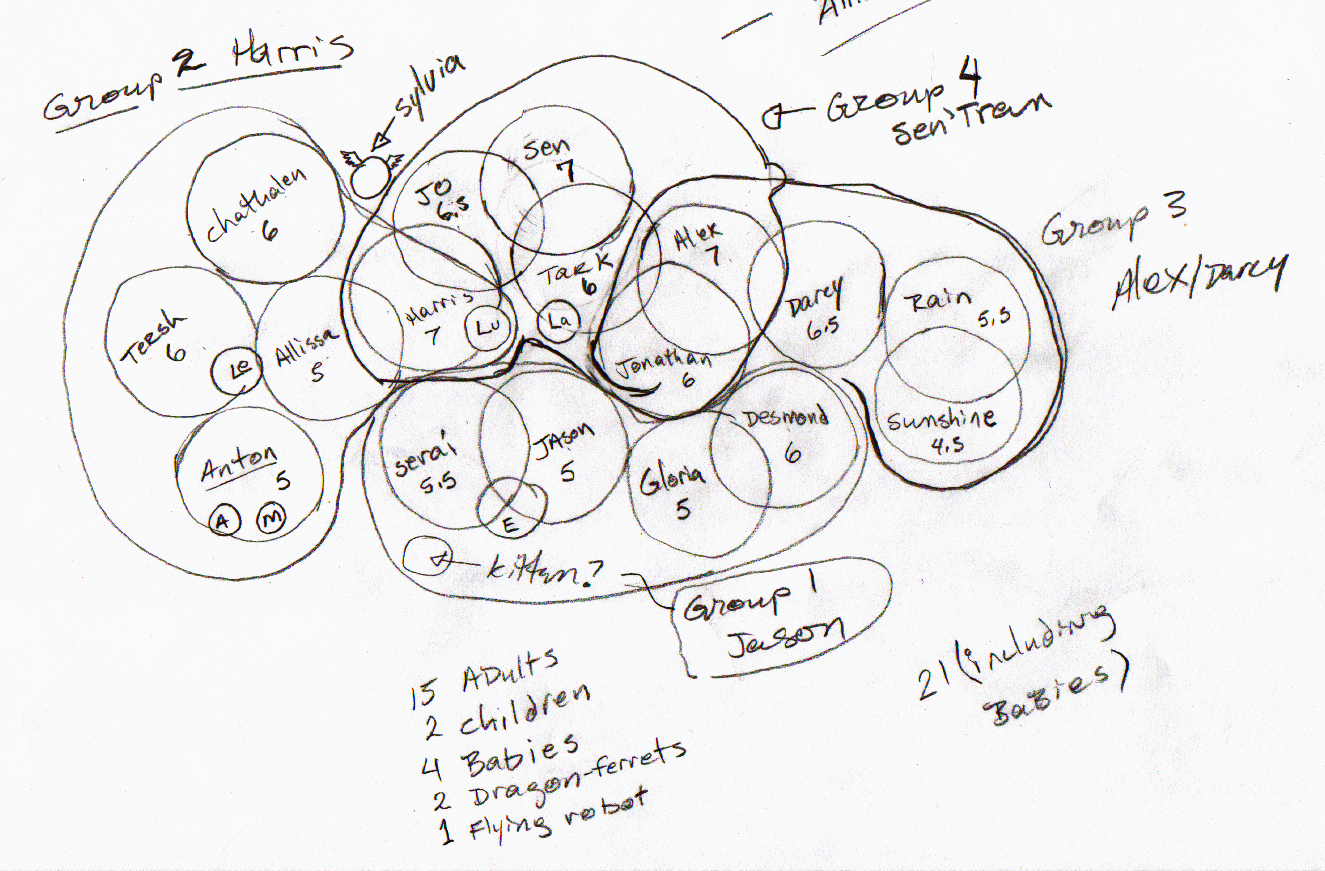 Description
ok so  this was hard to put a category on but ...oh well. 
posting this for the forum game "this reminds me of..." because it's the only thing I have on this comp of what the picture reminds me of. 
a few years back I commissioned a young friend on DA to draw me a picture of the whole extended family of the protagonist of my Nano-novel based story Destiny of dreams, which is a science fiction story and some of the people indicated here are aliens, which is why I chose that category. 
this is a sketch I made of where they should all stand based on both their relationship and how tall they are. 
____
explanation of the project here
http://paragangia.wikia.com/wiki/Art_by_other_people
this is the final picture she made
 http://rb-illustration.deviantart.com/art/Commission-Destiny-of-Dreams-262918883
..which in retrospect, I wasn't happy with because they all have an unhappy expression. 
the line art
http://rb-illustration.deviantart.com/art/Jadis-commish-WIP-199606149
had more positive expressions, I think what happened was by the time she was coloring it she was hating the project and that shows in the coloring. I think also they were not characters she understood or related to and that made it hard for her to give them sincere expression. 
after the time I commissioned her but before she did the coloring she went to art school, and  instead of canceling the project doubled the price, which made it more than I could well afford, but it was still not half what she at that point would normally charge for such a thing, so it sort of wasn't fair to either of us. A bad deal all around since she didn't have fun with it and and I wasn't that happy with it in the end. 
actually I'm tempted to recolor it myself but It seems disrespectful to change someone else's artwork. On the other hand I paid for it, and not displaying it because their expressions make me feel bad is also disrespectful. 
overall it was a good experience for me not because of the final product but because of all the sketches and character development I did in trying to figure out what I wanted, and in the anticipation, even though the final product didn't live up to the anticipation. I very much enjoyed the line art and the other sketch she did of a few of the characters 
General Info
| | | | |
| --- | --- | --- | --- |
| Ratings | | Comments | 4 |
| Category | Fantasy » Sci-Fi | Media | Unspecified |
| Date Submitted | | Time Taken | |
| Views | 285 | Reference | |
| Favorites... | 0 | Keywords | |
| Vote Score | 0 | License | Berne Convention |