peanut butter play dough
peanut butter play dough
peanut butter play dough
by
Jadis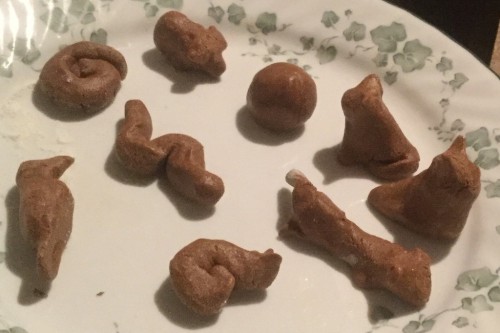 Description
wasn't sure the category here. 

a sample of things I make for my 3 yr old grandson out of peanut butter play dough, here you see a ferret, a slugterra slug, a cat, a snake a bird and Hauk the talking pig from 7 deadly sins anime. 
plus a few other shapes. 
fun stuff

I already ate the mice, other cats, dog, etc. 

plus a few other shapes. 
funtuff

half a cup peanut butter , half cup dry powder milk, quarter cup molasses or honey. mix together and then add more powder until it's stiff enough to hold it's form but soft enough not to crack. 

fun healthy and yummy.
General Info
Comments
0
Media
Unspecified
Time Taken
Reference