Sen'tran Jr and Arrow
Sen'tran Jr and Arrow
Sen'tran Jr and Arrow
by
Jadis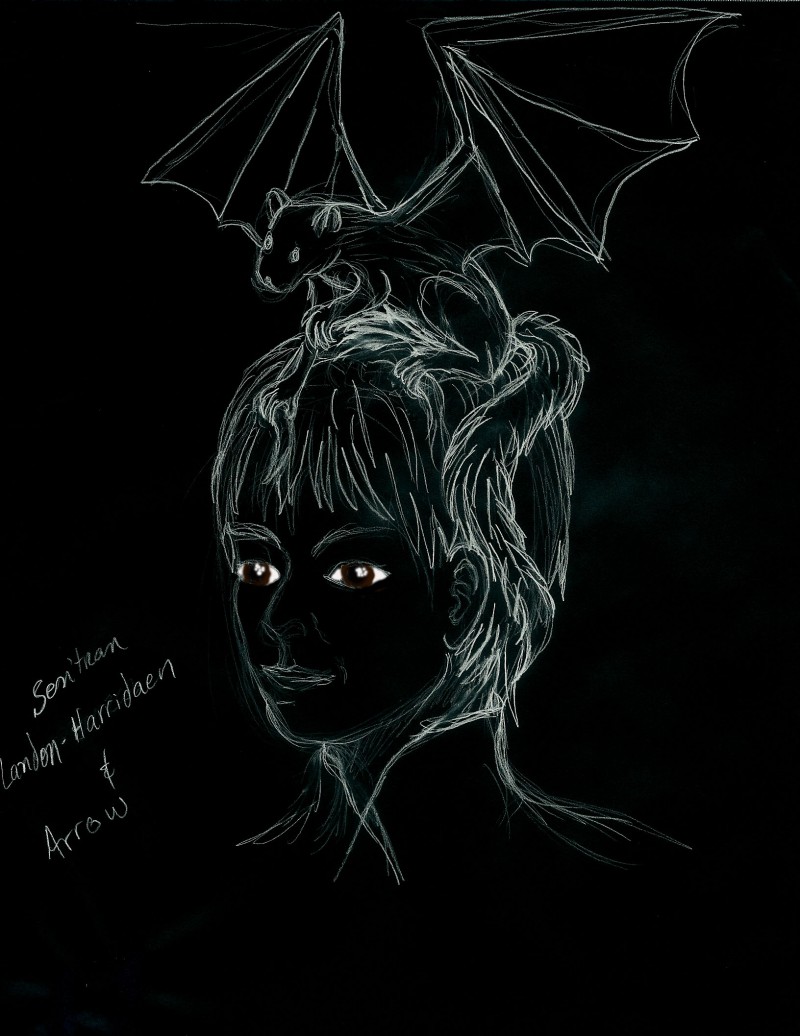 Description
Pencil sketch, scanned and inverted with I think photoshop, I also recolored the whites of his eyes with photoshop.
downloaded from my DA account for the forum because I need a picture of a Paragangian for the "that reminds me of forum because Drow always remind me of Paragangians.
original DA posting here,
http://www.deviantart.com/art/lol-Sen-jr-more-paragangian-109818722
origional pencil sketch scan here 
http://www.deviantart.com/art/Sen-tran-Jr-and-Arrow-109815435
the description of that on DA gives some info on the characters. it is obsolete because Tark's name was changed to Lenn and Quetzal's real name is now Shae. both of those might be a better middle name. 
*******
Basically this image depicts two next-generation original characters from my story Destiny of Dreams 
Arrow, the one with wings [a dragon ferret, also known in the port city of Jai-ten as rat-pigeons] , is the son of an important character called Marrisyl. Arrow's name derives from him having been born on a space taxi ship named the Light Arrow. 
Arrow is standing on the younger brother of Harris Jenzar. Harris is the Paragangian secondary protagonist of the series, more or less the sidekick of the primary protagonist Jason Scott-Harris, although Harris is probably the more interesting of the two. 
anyhow. 
one of my earlier efforts to create an image of a person with all black skin and hair. now that I have this on my computer I might get out the drawing tablet I found and try shading it. which on an all black image would actually not be shading but highlighting, right? 
inversion is an interesting technique.
more random info on this story is found on Paragangia wiki [a probably slightly abusive use for wikia, but I organize some of my story info there primarily for my own use]
http://paragangia.wikia.com/wiki/Paragangia_Wiki
General Info
Comments
9
Media
Unspecified
Time Taken
Reference